Evolve's Servers Are Shutting Down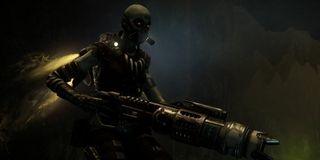 (Image credit: 2k Games)
2K Games and Turtle Rock Studios originally tried to revive Evolve two years ago with a free-to-play version. It started off pretty big, giving both companies a lot to look forward to, but some core issues just couldn't keep the game in the spotlight. So now the servers for Evolve are being shut down.
The news was posted up over on the official 2K support page, where an outline and roadmap for the shutdown procedure was made public. The notice states that starting September 3rd, 2018, the official dedicated servers for the game will be shutting down. It states that this means no more access to the online leaderboards, and the game's ranked mode for Hunt will no longer be available. It also means that Evolve: Stage 2 will also no longer be available on PC, and there will no longer be a way to spend virtual currency in the cash shop.
All purchased content will still be available for those who bought it previously, both for the PC and console version of Evolve. Skins, hunters, and monsters will still be accessible even when the dedicated servers are shut down.
The cash shop for Evolve: Stage 2 will officially close starting July 2nd, 2018, followed by the dedicated servers and in-game store accessibility on September 3rd, 2018.
As noted on the page, you'll still be able to play the game in peer-to-peer matches on PC and home consoles, as well as in offline mode in single-player. In the peer-to-peer modes, you'll be able to still take part in the matchmaking under the Quick Play modes for Hunt, Nest, Rescue, Defend and Arena. You'll also still be able to play Evacuation and the Custom Games.
The single-player modes will also still be available, including Evacuation, Quick Play, and Custom Games.
A list of all the features currently set to go away will include the Ranked version of Hunt, along with all the online player profile data, leaderboard support; the in-game store will be removed along with the news feed. Additionally, player badges will also be removed.
Evolve originally came out back in 2015 for Xbox One, PS4 and PC. The game courted quite a bit of controversy due to its DLC campaign leading up toward release.
Turns out, after a lukewarm launch, the controversy was not a good thing and the game quickly faded from view. 2K Games and Turtle Rock Studios didn't give up on Evolve, though. The studios re-released the game as a free-to-play title during the summer of 2016 to a lot of attention and media buzz. For a short while, the game brought in a whole new audience, and Turtle Rock even introduced a new hunter into the fold, but it didn't last and eventually even going free-to-play didn't work.
After the player base fell off the charts Turtle Rock and 2K seem to want to cut their losses and move away from the failed project, hence shutting down the servers later this year.
Staff Writer at CinemaBlend.
Your Daily Blend of Entertainment News
Thank you for signing up to CinemaBlend. You will receive a verification email shortly.
There was a problem. Please refresh the page and try again.