Cyberpunk 2077 May Be Further Along Than We Thought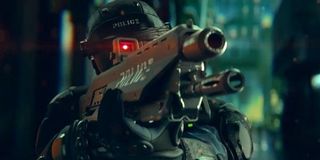 (Image credit: CD Projekt Red)
Rumors, information, hints, and whispers about CD Projekt Red's upcoming Cyberpunk 2077 have been popping up more frequently than ever. The latest rumors seem to suggest that the futuristic, action-RPG may be further along than we all originally thought. We might actually get a trailer at E3 this year.
GamePressure is reporting that Polish sources close to the subject have revealed to them that there will be a brand new, explosive E3 trailer that will make the rounds at this year's upcoming event in Los Angeles, California. Of course, this news hasn't been confirmed by the developer, so take it with a grain of salt.
There are no details on what will be in the trailer, but the outlet is reporting that Cyberpunk 2077 won't just be appearing for the glitz and glamor of showcasing some fancy visuals for the upcoming title. Apparently, there are rumors that CD Projekt Red will be flying out to Los Angeles and bringing the tech team to set up playable demonstrations of Cyberpunk 2077 for media personalities and for press. This would be an unprecedented move for the game given that it's been shrouded in secrecy since its debut back in 2013, five years ago.
There's no word on how long the rumored demo will be or what exactly it will contain, and we have no idea what platforms CD Projekt will be targeting with the game, given that it's likely going to be on the PS4, Xbox One and PC. Then again, with the advent of the PS4 Pro and Xbox One X, there's a possibility that Microsoft or Sony would want the game looking and running its best on the newer, higher-end consoles than the vanilla Xbox or PS4. But, given that most E3 demos run on high-end PCs, it's also very likely that CD Projekt will just stick to demonstrating the game on the platform it's most familiar with.
Of course, all of this is assuming that there will be a demo at this year's E3 and that a new trailer will drop during one of the major conferences.
These rumors are most certainly to be taken with a grain of salt until the development studio confirms the news.
What we do know is that the company recently revived the official Twitter account for Cyberpunk 2077 after five years of silence. It came back with a resounding "Beep." No... really, it did.
The "Beep" seems to indicate that there really is a resurgence for the game. This comes after lots of news about various top talent leaving the studio and other hiccups and road bumps that some believed would set the game back or cause delays in development. CD Projekt also had to switch over to the new RedEngine 4, which is an upgraded engine over what was used for The Witcher series.
However, if the rumors are true that the new futuristic cyberpunk title will make an appearance at this year's E3, then many of the doubts and reservations about the game could finally be put to rest. Of course, a lot of gamers will be holding their breath in anticipation for which platforms Cyberpunk 2077 will support when it finally does reemerge.
Staff Writer at CinemaBlend.
Your Daily Blend of Entertainment News
Thank you for signing up to CinemaBlend. You will receive a verification email shortly.
There was a problem. Please refresh the page and try again.