The Witcher's Geralt Will Be Making An Appearance In Another Game, But Which One?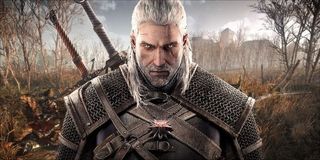 (Image credit: CD Projekt Red)
CD Projekt Red managed to turn Andrzej Sapkowski's Geralt of Rivia into a household name among gamers. The protagonist fromThe Witcher series has grown massively in popularity over the last decade, and now there are plans to have Geralt appear in another game.
The community manager at CD Projekt Red, Marcin Momot, teased Geralt's appearance for the first time outside of The Witcher series for an upcoming game. The tease came via a tweet on Momot's official account, with a repeating gif of Geralt's face...
The comment section beneath the tweet goes into a frenzy, with lots of gamers naming games where they would love to see Geralt appear. Quite naturally, some gamers mentioned Monster Hunter World, but as pointed by other keen gamers, Capcom's monster-hunting title has already released. It would have been a perfect marriage between the two because Geralt is a professional monster slayer, and Monster Hunter World is all about... well, slaying monsters.
The more realistic option is obviously Soul Calibur, since, as gamers pointed out, Bandai Namco published The Witcher games in Europe. Warner Bros. usually publishes The Witcher games in North America. So how does Bandai Namco publishing The Witcher games in Europe equate to Geralt appearing in Soul Calibur VI? Well, follow the logic here: Bandai Namco also published Assassin's Creed games in certain parts of Europe, and Ubisoft allowed Bandai to add Ezio to the last Soul Calibur game. Given that Bandai Namco published The Witcher in Europe, it's not impossible that CD Projekt Red struck a deal with Namco to feature Geralt in the game.
Others pointed out that Geralt could be making an appearance in another highly popular fighting game... Super Smash Bros.
As many of you know, Nintendo is known for adding all sorts of crazy characters from other game series in the Super Smash Bros. franchise. This has included Cloud from Square Enix's Final Fantasy VII, and Bayonetta from Platinum Games' hack-and-slash series, along with Solid Snake from Konami's Metal Gear Solid.
A few people speculated that Geralt could appear in Final Fantasy, but that seems unlikely. And Kingdom Hearts III is another candidate for Geralt to appear, but that's assuming Square sticks firm with a 2018 release. Then again, would Disney really want Geralt appearing in a game with so many of its iconic characters?
Even still, there's a strong likelihood that Geralt will make an appearance in Soul Calibur VI. The last outings saw crossovers with characters from Star Wars: Force Unleashed, The Legend of Zelda and even Todd McFarlane's Spawn. Geralt would fit right in with the rest of the cast of characters in Bandai Namco's upcoming fighter. I'm pretty sure we'll find out exactly which upcoming game the White Wolf will make an appearance in at some point during E3 this June.
Your Daily Blend of Entertainment News
Staff Writer at CinemaBlend.