Quantum Break's Sam Lake Sings Hideo Kojima Praises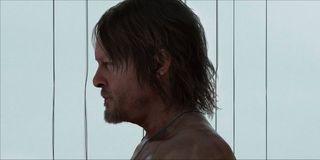 (Image credit: Kojima Productions)
One of the most talked about games coming out of this year's E3 was Death Stranding from Hideo Kojima and Kojima Productions. Even though the eight-minute promotional trailer for the game finally revealed some of the actual gameplay, none of it made any lick of sense to most people, even though they were absolutely fascinated by its content and themes. Remedy Entertainment writer and creative savant, Sam Lake, was even taken aback by how visually captivating Death Stranding was and had nothing but praises to sing for the work that Hideo Kojima and the rest of Kojima Productions are putting into the upcoming PS4 exclusive. Lake said during the interview at E3:
Those remarks of praise to Gamespot seem particularly noteworthy coming from the likes of Lake, who is no creative lightweight. In fact, he's most recognized for popularizing Max Payne, which was one of the early movie-style video games released way back in the day by mixing in graphic novel story pages with poetically gaudy descriptions of Max's battle through the blistering cold night of New York City while attempting to unravel a conspiracy involving his wife's murder and his own criminal framing at the hands of his former friend.
Unlike Metal Gear Solid, though, Max Payne didn't quite delve too deep into the bizarre or outlandish. Lake kept the writing closer to the likes of pulp graphic novels from the 1990s, with the story themed around police and corporate corruption. Remedy's other projects, such as Alan Wake and Quantum Break were still steeped in thrills and frills and plenty of drama, with the former dabbling in horror while the later was a mind-bending sci-fi tale about time travel and quantum paradoxes.
Even while having plenty of lauded and critically acclaimed work spread throughout the game industry, Kojima's artistic expression of combining movie-like cinematics with off-kilter gameplay in a game like Death Stranding has made both filmmakers and video game designers stop, stand-up and survey his work in a different light.
Kojima has been known for bringing a lot of Hollywood-style elements to the video game creative space as well, such as the shaky-cam effect present in Metal Gear Solid V: The Phantom Pain, or the long tracking shots without breakaways.
Even though we've seen multiple cinematics and some of the gameplay from Death Stranding we still don't know entirely what the game is about, but we'll eventually find out at some point. Sam Lake, meanwhile, is still hard at work on his own project Remedy called Control, which is a paranormal shooter that seems to combine the likes of Dark City with The Matrix and Men In Black all wrapped up into one nice little bundle. Both Death Stranding and Control are due out for home consoles in the future.
Your Daily Blend of Entertainment News
Staff Writer at CinemaBlend.