How Nintendo Switch Online Will Affect Splatoon 2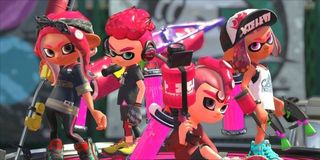 (Image credit: Nintendo)
Starting this September, the Nintendo Switch will undergo a major change: Nintendo will introduce the premium version of the Nintendo Network to Switch owners. The service will require monthly, quarterly or annual fees to use, and it means that everyone who has been playing Nintendo's games for free online will then have to pay to play the games online. This obviously brings up the biggest question of them all: how will this affect Splatoon 2?
Well, Polygon is reporting that Splatoon 2 producer Hisashi Nogami revealed to them that they do believe the premium service will have some kind of influence, but are hoping that it will give Nintendo an opportunity to expand the community...
I'm curious about the fact that the exact kind of influence they think the premium service might have on the community isn't disclosed. Will it be positive? Will it be negative?
Essentially, every gamer who owns a copy of Splatoon 2 can easily hop online and play with anyone without any sort of barriers getting in the way and preventing them from enjoying the game. However, when you add a paywall as an obstruction to allowing people to join up with friends and play online, it ultimately means that people who are unwilling or unable to pay will end up not playing.
For instance, right now Fortnite on the Nintendo Switch is a truly free-to-play game. If you own a Switch you don't have a pay a dime to play; just download the client and enjoy yourself.
It should be a worry for Nintendo that adding a pay-barrier to the games may not go over so well while the Nintendo Switch is still trying to gain its footing. While it may have moved tens of millions of units so far, it still hasn't quite saturated an install base to where Nintendo can rest on its laurels.
However, Nogami sees the premium service of the Nintendo Switch as an opportunity to improve the quality of the online multiplayer for Splatoon 2. As noted by Polygon, this includes adding new weapons, new maps, and new modes for the game.
Recently, during this year's E3 event, Nintendo unveiled the new Octo Expansion containing the single-player content for Splatoon 2, which takes players through a grueling series of platforming levels.
In a way, it's nice that Nintendo added the single-player content to Splatoon 2 for people who don't want to pay to play online. However, the other issue is that the single-player content is only available to those who paid for the DLC. So, either way, gamers who still want to enjoy Splatoon 2 without paying for online play will still be in a pickle.
However, Nogami hopes that all the new content being added to Splatoon 2 will lure gamers into paying for the premium online features.
Your Daily Blend of Entertainment News
Staff Writer at CinemaBlend.