A Popular MMO Is Coming Soon To The Nintendo Switch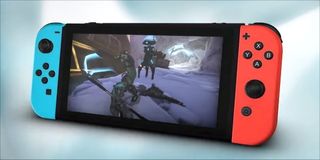 Not every publisher and developer was on board supporting the Nintendo Switch during its early lifespan. A lot of studios took a wait and see approach because it was such a radical idea to have a home console that could double as a portable console as well. After Nintendo's little hybrid took off and became a sales phenomenon, a lot of studios have come around to supporting it, including some developers working on popular free-to-play MMOs that you probably didn't expect to see on the Switch.
During this year's TennoCon, developer Digital Extremes announced that the free-to-play, third-person, hack-and-slash shooter, Warframe, is set to arrive soon on the Nintendo Switch. The news was further hammered home with an announcement trailer that was posted up over on Nintendo's official YouTube channel.
The trailer reveals that Nintendo Switch owners will be able to play Warframe from the home console in TV mode while kicking back and relaxing on the couch, or on the go. The game will include all of the base Warframes, along with the planets, maps, and missions that players have been experiencing on the PS4, PC and Xbox One versions of Digital Extreme's MMO.
Digital Extremes, however, are not the ones developing the Switch version of the game, Panic Button is in charge of that feat actually. The development studio is known for having worked on more than a dozen games over the last decade, from wrestling titles like Hulk Hogan's Main Event for the Xbox 360, to Astro Duel Deluxe for the Nintendo Switch. Majority of the company's portfolio consists of working as a port house for other larger titles like Injustice: Gods Among Us for the PlayStation Vita or MS. Splosion Man.
More recently the company was tasked with handling a handful of Nintendo Switch ports from high-profile franchises, such as Bethesda titles DOOM and Wolfenstein 2: The New Colossus.
The game will also feature a lot of the new updates either recently released for Warframe or set to arrive for the game, such as the all-new open-world maps like Plains of Eidolon, and the upcoming Orb Vallis. There's also the new Fortunate hub city, and the all-new cyborg faction known as Solaris United.
All new forms of transportation are inbound as well, including the ability to ride a hoverboard, and piloting the all-new Bondi K-Drive.
Warframe has oftentimes been considered as Destiny's arch rival. It's easy to see why given that both games are very similar in their setup, but Warframe has been advancing in really grand ways, adding space combat, indoor and outdoor missions, open-world environments, and featuring some of the most advanced third-person melee combat this generation has to offer.
There's no release date on when the game is launching but it's coming out soon for the Nintendo Switch.
Your Daily Blend of Entertainment News
Staff Writer at CinemaBlend.