When Fortnite Season 5 Will Begin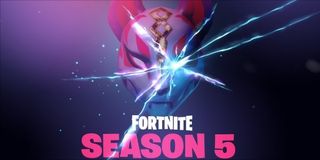 The popularity of Fortnite doesn't seem to be waning in the slightest. In fact, the game only seems to be growing, expanding, and turning into the video game equivalent of the Blob from The Blob -- except for the fact that it doesn't slide around the streets, slurping up people and growing large enough to swallow whole towns... but you get my drift. Epic Games is celebrating the growth of Fortnite with the announcement that there is a Season 5 inbound. The fifth season is actually scheduled to get underway so much sooner than you were expecting that you'll probably fall out of your chair with excitement when you find out just how soon it will begin. Just three days.
Yes, Season 5 for Fortnite will get underway in just three days. The announcement came courtesy of the official Fortnite Twitter account, where it was revealed that this week the fifth season will begin.
We see that the image shows a mask with a lightning strike coming out of the eye of the mask. This relates to an event that occurred recently where Epic Games had a countdown to an event, and when the timer finished a rocket blasted off from out of a complex and attempt to destroy a building. However, the rocket ended up blasting into the sky after hitting a force field and when it blew up in the sky it created a stream of lightning strikes and a fissure tear in the fabric of reality.
Some believed that the event that took place was a precursor for the events that would eventually take place in Season 5. It turns out that those who assumed as much were correct.
The fissure that was created in the sky within Fortnite is featured prominently on the mask in the promo image for Season 5.
So whatever happens will have something to do with the event that recently transpired just before the Playground LTM was briefly tested.
Now the mask looks like it relates to some kind of cosmic hero/villain. Given the events that transpired in Season 4 of Fortnite, which was themed around superheroes and even featured a brief guest appearance by Thanos from Avengers: Infinity War, it doesn't seem too far-fetched that Epic would feature more superheroes in the game.
This time around, however, it seems more sci-fi or cosmic oriented than the standard superhero motif that was featured in the previous season. Of course, we can't go by much given that all we have is the mask on the splash image for Season 5.
Details on the fifth season are completely under wraps. We have no idea what new features will be added or what new content will be included in the game until it all drops in just several days' time. A lot of people are hoping that shotguns will be buffed again for the Battle Royale mode, while others are hoping for a brand new map. I suppose we'll find out exactly what's new later this week.
Staff Writer at CinemaBlend.
Your Daily Blend of Entertainment News
Thank you for signing up to CinemaBlend. You will receive a verification email shortly.
There was a problem. Please refresh the page and try again.