Battle Royale Games Could Make An Insane Amount Of Money In 2019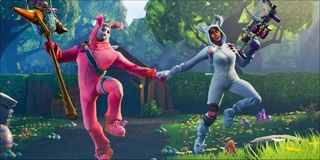 (Image credit: Epic Games)
There's a lot of hype surrounding the Battle Royale genre. It's turned into a whole new category of its own that brings in millions and millions of dollars. Things went mainstream with PlayerUnknown's Battlegrounds, which went on to sell tens of millions of copies, and now some analysts believe that with the advent of titles of like Fortnite, we could end up seeing the Battle Royale genre evolve from making millions upon millions of dollars each month to making billions of dollars with even more games being brought to the market in 2019.
In SuperData's latest report the research firm believes that the advent of the Battle Royale genre in standalone games like PUBG Corporation's PlayerUnknown's Battlegrounds and free-to-play games like Fortnite will continue to drive revenue, while the inclusion of Battle Royale modes in games like Call of Duty: Black Ops 4 and Battlefield V will help normalize the feature and continue to drive up interest and market capital for publishers. The firm believes that by 2019 we could see the genre bringing in $20 billion across premium product sales, mobile gaming, free-to-play modes on PC and home console, and boxed copies.
SuperData believes that the Battle Royale craze will account for 12% of all sales revenue in 2018. The analysts believe that this will continue to attract gamers who grew up playing Minecraft on mobile devices as well as people who are looking to sate the next big fad in gaming after getting a taste of the survival simulation genre that kick-started the craze back in 2011 and 2012 with mods like DayZ for Bohemia Interactive's Arma 2.
According to the report, SuperData estimates that majority of the sales will come from premium product sales of the genre on home consoles like PS4, Xbox One and Nintendo Switch, followed by the sales of PC, and then free-to-play microtransactions.
Majority of the sales will be driven by gamers who have previously played first-person and third-person shooter games. So there's an expectancy that many of the people who have been playing these action games are just migrating to the next big thing, similar to how DayZ and Rust were huge years ago and many of those gamers moved over to the Battle Royale genre.
This may not seem like too much of a stretch, expecting the Battle Royale genre to become a smash hit throughout 2019 and making tens of billions of dollars instead of hundreds of millions of dollars, but analytical forecasting has its hiccups every now and again.
Keep in mind that analysts believed that virtual reality was going to be a huge, multi-billion dollar market that ushered in a new way to game. In reality, the adoption rates have been rather low and the software hasn't been as popular as some may have predicted. In fact, Microsoft may have introduced the Mixed Reality Headsets but has no means of connecting them to the Xbox hardware, and Sony has mostly moved away from any major new PlayStation VR games.
We'll have to find out if the Battle Royale craze maintains its popularity into 2019 and beyond, and if the forecasts for revenue come true.
Your Daily Blend of Entertainment News
Staff Writer at CinemaBlend.