Everything You Get In The Resident Evil 2 Remake's Collector's Edition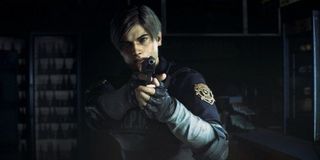 Just as San Diego Comic-Con was wrapping up, Capcom shambled onto the scene to reveal an impressive $200 Collector's Edition that will be available for the upcoming remake of Resident Evil 2. From an artbook to a foot-tall statue of Leon Kennedy, this box of goodies is stuffed with content series fans will just die (and rise from the grave) for.
While your average horror fan will likely be content to simply buy Resident Evil 2 and play through the remastered campaign, Capcom has pulled out all of the stops to make sure the game's Collector's Edition has been given the VIP treatment. It's quite a bit more pricey than your average content upgrade, but that's because it comes with a boatload of physical goodies.
The publisher announced the RE2 special edition during Comic-Con, revealing that the $199 package is now available for pre-order at GameStop and EB Games here in North America.
If you find yourself asking "What's in the box?!," the answer is "quite a bit, actually." For starters, you'll get yourself a copy of the game. That should go without saying but, in this day and age, we wouldn't be surprised to see a limited edition of a game launch that doesn't actually include the game itself. Publishers are doing all sorts of weird stuff.
On top of the game proper, you'll get a collection of extra DLC. Before you get too worried about Capcom wanting to simply add a bunch of extra story content that wasn't in the main game, this is actually completely cosmetic. The DLC includes a pair of costumes for Leon and a trio of costumes for Claire. If you want to add a little razzle-dazzle to your zombie-slaying experience, then feel free to give both characters a "noir" makeover.
Also included in the bundle is a special weapon, the "Samurai Edge -- Albert Model." And if you'd rather play the game with the original soundtrack, that will be available in this special edition bundle, too.
Along with the game, you'll net yourself a collection of physical goods including the big draw, a 12-inch Leon S. Kennedy statue featuring the game's protagonist, gun at the ready and dressed for his first day on the job with the Raccoon City Police Department.
Also included is the "Ben's File" Art Book, a collection of 32 pages that were "left behind" by Ben Bertolucci, a freelance journalist who appears in the game. That's complemented by a 25-track digital soundtrack featuring tunes from the new and old versions of Resident Evil 2 and a sweet-as-hell R.P.D. Renovation Design Poster, which is basically a blueprint that shows the game's main building as it was being converted from a museum to a police department. Remember, you can pre-order the package right now at GameStop and EB Games in North America.
Your Daily Blend of Entertainment News
Staff Writer for CinemaBlend.