How Assassin's Creed Odyssey Is Switching Up Combat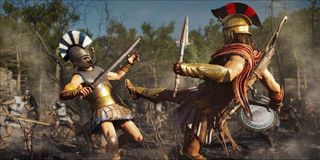 (Image credit: Ubisoft)
After Assassin's Creed: Syndicate Ubisoft decided it was time to do something completely new with the combat in the Assassin's Creed franchise. Previous to Syndicate, the franchise's combat was oftentimes considered puppeteer controls, where players directed the action with a few key button presses and watched some cinematic style battle sequences play out. Some loved the old system, some hated it. In Assassin's Creed: Origins Ubisoft overhauled the entire thing to play like Dark Souls, and now the company has decided to modify and iterate the system that was introduced in Origins, and change it up even more.
According to an interview that IGN had with game director Scott Phillips, the fighting mechanics and combat have been redesigned to accommodate customizable abilities and skills. Phillips explained...
In Assassin's Creed: Origins the combat was a lot closer to the likes of From Software's Dark Souls series, insofar that you had to time your attacks and look for openings. Different weapon types also had different speeds, defensive properties, and attack strengths. It wasn't quite like the typical third-person hack-and-slash games most gamers were used to, like Ryse: Son of Rome or Konami's Castlevania: Lords of Shadow. Instead, the game went with a more measured approach, forcing gamers to think about their loadout and the kind of enemy that they were facing.
This time around, Ubisoft -- as mentioned by Phillips -- built on top of that and decided to make the combat in Assassin's Creed: Odyssey a lot faster, a lot more aggressive, and in some ways, you could say similar to Koei Tecmo's Dynasty Warriors series, with massive battles featuring countless NPCs.
According to Phillips, you don't have to just fight like you stepped out of a thousand-army game. You can actually specialize in different types of combat proficiencies, including hard-hitting physical attacks, stealth attacks, or ranged attacks. I don't know how well the other two categories will work with the new army mode that literally mimics Dynasty Warriors, but the option will still be there for players to exploit and use as they see fit.
But don't worry. You won't be locked into any specific playstyle in Assassin's Creed: Odyssey. According to the game director you will be able to mix and match the different categories like an action-RPG to come up with your own style of play that best suits how you want to approach the combat and which skills you feel you need to upgrade to suit your playability.
There was a similar setup in Assassin's Creed: Origins, insofar that you could also focus on straight melee attacks, or stealth, or rely on the long-range attacks using Bayek's bow and arrow kits. Ubisoft hasn't really put a lot of promotional focus on the long-range play factors yet, but I expect to see more when Assassin's Creed: Odyssey readies for release this fall on Xbox One, PS4, and PC.
Staff Writer at CinemaBlend.
Your Daily Blend of Entertainment News
Thank you for signing up to CinemaBlend. You will receive a verification email shortly.
There was a problem. Please refresh the page and try again.