God Of War Is Getting A New Game Plus Mode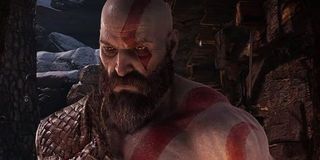 If you really want to feel like you're wielding the power of Olympus, then you'll probably want to check out the New Game+ mode Santa Monica Studio recently announced for God of War. Along with a beefed-up difficulty, the new mode will allow Kratos to be at his best with a whole bunch of perks carried over from your previous playthrough of the game.
Santa Monica Studio's Aaron Kaufman recently dropped by the PlayStation Blog to announce that the team is hard at work on a New Game+ mode for God of War. Since the studio has made it clear there are no plans to simply launch new story content for the PlayStation 4 exclusive, it's nice to know that they still want to give players a good reason to pick up a controller and dive back into the adventure one more time. According to Kaufman, the team decided to create this DLC because of the fans who have stuck with the series and helped make the latest God of War a massive success.
Unfortunately, we have no idea what the launch window is for this new mode, but we at least have some info on what fans can expect when it arrives. Like other New Game+ modes, it basically means you get to start the game with a whole bunch of the gear and items you ended the original campaign with. Kaufman said this was a highly requested feature, so we imagine it's going to make a lot of fans very happy.
As outlined in the blog post, the New Game+ mode will allow players to carry over all armor, pommels, and talismans from their previous playthrough of God of War. If you haven't played the game yet, that's all of your most important gear that beefs up Kratos and Atreus' stats and makes them into true badasses. The post states that other items will carry over as well, though no specifics were given.
To counterbalance that advantage, the game will also be receiving a boost in difficulty. Since the player is allowed to bring all of their favorite toys to the fight, we imagine that means that all of the baddies in God of War will be receiving some nasty stat boosts of their own. Then again, part of the fun of a New Game+ mode is that it empowers the player to an even higher degree, so here's hoping Santa Monica Studios doesn't tip the scale too far in the favor of Norse mythology.
Kaufman signs off by stating that more information about this new mode will be made available before it launches, so we can't help but suspect they've got a few tricks hidden up their sleeve. Could we be getting some mode-specific gear and abilities? Or maybe a new challenge realm worthy of the player's boosted abilities? We'll just have to wait and see.
Staff Writer for CinemaBlend.
Your Daily Blend of Entertainment News
Thank you for signing up to CinemaBlend. You will receive a verification email shortly.
There was a problem. Please refresh the page and try again.