Assassin's Creed Origins Is Getting A New Game Plus Mode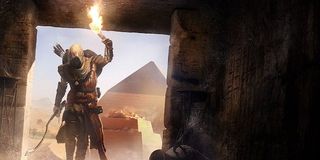 For fans still trying to squeeze every molecule of adventure out of Assassin's Creed Origins, your dedication to the game will soon be rewarded. According to a recent update, a new game plus mode is on the way.
Over on the Assassin's Creed reddit, user BeeKaying asked the developers at Ubisoft if a new game plus mode would ever be made available. The post states that the community has been begging for just such a mode and, a while back, the developers stated it was under consideration. BeeKaying asked if there was any news concerning such a mode, and the community manager delivered the goods.
The response was brief but included all of the information Origins fans needed. It states that a new game plus mode is indeed coming, with more information to be shared "soon."
That response led to a lot of celebrating by Assassin's Creed fans, as well as a bunch of questions about what the mode will offer. It's probably obvious, but Ubisoft has not yet responded to any of those additional inquiries. We figure they'll do that whenever "soon" arrives, so hopefully folks can cool their jets until then.
Ubisoft has really been going after the games as service model with their latest offerings, and Assassin's Creed Origins is no exception. They've hosted multiple in-game events since the game launched this past fall, as well as introduced small bits of DLC such as fresh gear and system updates. The for-pay major DLC is set to start rolling out starting next month, with the combat-free educational exploration mode arriving in March.
And based on how things have been going with games like Ghost Recon: Wildlands, The Division, For Honor and the like, we figure this is only the beginning of a long journey as far as continued support is concerned.
As for what will be included in the new game plus update for Origins, your guess is as good as ours at this point. While Ubisoft could certainly decide to shake things up a bit, our guess is that the formula will be similar to the one utilized in most games. In short, once you finish the campaign, you will likely be able to go into the game from the beginning with all, or at least most, of your gear and abilities intact. Then again, they may decide to tweak enemy placement and difficulty in order to make the new version of the game more challenging.
If you've got a wish list for things to be included in the new game plus mode of Assassin's Creed Origins, feel free to share it with the rest of our readers. Would you prefer a harder romp through the original campaign or a power trip where you steamroll everyone thanks to your end-game gear? Let us know in the comments below.
Staff Writer for CinemaBlend.
Your Daily Blend of Entertainment News
Thank you for signing up to CinemaBlend. You will receive a verification email shortly.
There was a problem. Please refresh the page and try again.