A Pair Of Tomb Raider Games Go Backwards Compatible On Xbox One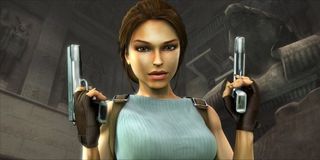 Eidos Montreal and Square Enix are gearing up for the release of Shadow of the Tomb Raider. The upcoming third-person, action-oriented platformer will be making its way to home consoles and PC starting next month in September, but in the interim gamers will be able to catch up on some of Lara Croft's older adventures on the Xbox One. It was recently announced that two classic Tomb Raider games have gone through the process of being made compatible with the Xbox One, and now the Xbox 360 third-person action titles are now available to play for those of you who have an Xbox One or Xbox One S or Xbox One X in your possession.
The news was rolled out by Larry "Major Nelson" Hryb over on his official Twitter account, where it was confirmed that Tomb Raider: Legend and Tomb Raider: Anniversary are both available as backward compatible titles to play on the Xbox One.
The two games are actually chronologically linked, with Tomb Raider: Legend being a remake of the original 1996 game, Tomb Raider. It featured an all-new overhaul of the graphics, and a revamp of the classic gameplay.
Tomb Raider: Legend originally came out 12 years ago for the Xbox 360, PS2, and portable devices. It was a re-imagining of the Tomb Raider series for a new generation of gamer. Interestingly enough, the game still maintained a lot of similitude to the 1996 outing, keeping Lara in her classic gear and maintaining her spy-tier personality. It wasn't quite as drastic as the Tomb Raider reboot that released back in 2013 and was a lot closer to the classic series on the old PSX and PC platforms.
The game still had Lara traversing through trap-filled tombs with lots of 3D platforming puzzles, and taking out giant dinosaurs and other vicious animals using Lara's iconic twin pistols and shotgun. New to the series was the grappling hook and quick-time events to help add some cinematic flair to Tomb Raider: Legend.
The game was followed up with Crystal Dynamics' Tomb Raider: Anniversary, which maintained a similar visual style and characterization of Lara Croft, picking up and maintaining the continuity that was first established with the 2006 outing. Tomb Raider: Anniversary originally came out in 2007, just a year after Legend, and while it received some high marks for its design and gameplay, it failed to catch on sales wise, and it ended up tanking.
The series would have one more go-around before yet another reboot when Underworld released in 2008. However, for those of you who missed out on the other two games, you can play them right now on your Xbox One. If you have the old discs, you can just plop them in and install them, or if you have them attached to your Xbox Live profile, you can simply install them digitally.
Staff Writer at CinemaBlend.
Your Daily Blend of Entertainment News
Thank you for signing up to CinemaBlend. You will receive a verification email shortly.
There was a problem. Please refresh the page and try again.