New Assassin's Creed: Odyssey Trailers Let You Pick Your Hero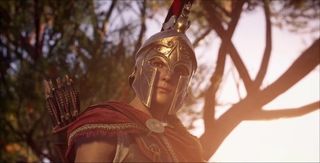 With GamesCom comes a ton of new gameplay trailers, reveals, and announcements. In the case of Ubisoft's Assassin's Creed: Odyssey, it was a matter of receiving two brand new trailers focusing on the hero and heroine of the upcoming open-world adventure title. The trailers are actually identical, other than the fact that the major difference is that each trailer features one of the two playable characters, Alexios and Cassandra, taking part in the epic odyssey that Ubisoft has mapped out for the franchise.
The new trailers clock in at just a minute and a half. They're identical in presentation save for one features Alexios and the other features Cassandra. Ubisoft labeled them as cinematic trailers because it's a cinematic overview of the world that players will jump into. The trailer talks about how there's blood and death, corruption and violence plaguing the land. We get clips of people being stabbed, impaled and killed in a number of different ways across a variety of different landscapes. We see a Spartan fighting a lion, and we see some of the naval ship combat, and we have the ominous forewarning that if Cassandra or Alexios fails, then Greece will fall.
The trailer has a few snippets of the traditional Assassin's Creed outlandishness, including a snippet of something I didn't expect to see: mythological figures from Greek history.
Yes, the heroes of Assassin's Creed: Odyssey will apparently face off against mythological figures such as Medusa. We see her snake-wrapped head and lanky body slither across the frame in a towering and menacing way toward the player. This kind of fantasy fight shouldn't be too shocking to gamers given that in Assassin's Creed: Origins we had Bayek fighting against some ancient Egyptian gods. So, Ubisoft certainly isn't afraid to dive off into the deep end of fantasy to satisfy fans.
Surprisingly, a large portion of the trailer was all about the combat. The strong suit of the Assassin's Creed franchise has typically been in its traversal and environmental interaction. It used to be known for having the best open-world parkour system in the industry. However, with the trailer above we don't see any parkour... at all!
I would have thought that this would have been a key element in the game's marketing promotion, but instead the focus is more on the Dark Souls-inspired combat system, which was originally overhauled in last year's outing, Assassin's Creed: Origins.
In fact, if you head on over to the description page on the official website (opens in new tab) for the gameplay features of Assassin's Creed: Odyssey, there isn't much info on the traversal or if there's been any updates to the parkour.
I suppose Ubisoft may be trying to court more of the Dark Souls and Mass Effect audience this time around rather than the Spider-Man fans, especially given how much the company has been focused on the character choice and RPG elements.
You can look for Assassin's Creed: Odyssey to launch for Xbox One, PS4 and PC this October.
Staff Writer at CinemaBlend.
Your Daily Blend of Entertainment News
Thank you for signing up to CinemaBlend. You will receive a verification email shortly.
There was a problem. Please refresh the page and try again.