Shadow War Is The Final DLC For Call of Duty: WWII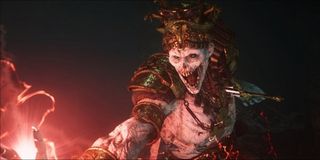 (Image credit: Activision)
Activision is still pumping content out for Call of Duty: WWII. Yes, even though the game is a complete year old at this point, it's still receiving new content. Activision was always keen on supporting the Call of Duty games with a ton of DLC, post-launch. Except for maybe Infinite Warfare, which is sort of treated like the red-headed step-child of the Call of Duty franchise, but not because it was a bad game. Anyway, Activision and Sledgehammer Games have a brand new piece of DLC for Call of Duty: WWII, and it also happens to be the final piece of DLC for the game, which makes sense given that Call of Duty: Black Ops 4 is nearing its own release this fall for home consoles and PC.
The news about the new DLC was revealed on the PlayStation Blog. The fourth DLC pack is called Shadow War!
The final piece of content for Call of Duty: WWII is set to debut on the PS4 starting August 28th. PC and Xbox One gamers will receive the DLC at a later date, but it will contain three brand new multiplayer maps, along with a brand new War Mode mission, and a conclusion to the Nazi Zombies storyline.
The multiplayer maps include Airship, Chancellery, and Excavation. Airship takes place in the Alps aboard an airship where players will fight atop and inside of a heavily armored zeppelin base. The zeppelin, unfortunately, is docked at the station and you won't be able to fly it into the air, but you will be able to call airstrikes to rain down artillery fire on enemies who are unlikely to stay out in the open.
Chancellery is set in France, based on the namesake of the map, a French Chancellery. You'll fight through the courtyard and into the stronghold corridors, which feature lots of ins and outs from which to backstab opponents. And, last but not least is Excavation, which is located in Algeria. Players will fight within an Algerian mine, as well as fight among the empty husks located within a tank graveyard.
For the War Mode, players will have Operation Arcane to tackle, which is themed around a secret enemy research facility located high up in the mountains of Austria. The map takes on a sci-fi element as players will encounter enemy experiments, prototypes, and a storage unit filled with UFOs. It almost seems like something you would expect out of Grand Theft Auto and not Call of Duty, but here we are.
Finally, there's The Frozen Dawn, which is the DLC's Nazi Zombie finale for Call of Duty: WWII. Players will actually see how Marie, Drostan, Olivia, and Jefferson's journey concludes with the Shadow War! DLC. Players will journey with the group into the depths of Thule, a lost city where they must fight against the cult of Thule and face off against an ancient evil.
The final DLC for Call of Duty: WWII arrives just ahead of the launch of Black Ops 4, which is due to drop this fall for the Xbox One, PS4, and PC. The newest game will feature an all new Battle Royale Mode, as well as a focus on multiplayer. The game doesn't have an actual single-player campaign mode, so it will be interesting to see how gamers react to that.
In the meantime, you can look for the Shadow War! DLC to arrive first on the PlayStation 4 starting August 28th.
Staff Writer at CinemaBlend.
Your Daily Blend of Entertainment News
Thank you for signing up to CinemaBlend. You will receive a verification email shortly.
There was a problem. Please refresh the page and try again.