Call Of Duty Black Ops 4 Will Have Two Betas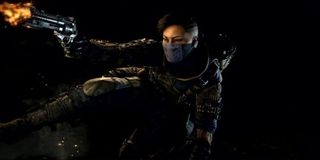 (Image credit: Activision)
Most big time shooter games usually (almost always) have beta tests ahead of launch these days. It's just standard practice. It's like buckling up before you go out driving, or putting on a scuba mask before going snorkeling. Most companies recognize that playing it safe by holding a beta test before a game launches is common practice, but for Activision and Treyarch the studios want to make sure that Call of Duty: Black Ops 4 launches without a hitch, given how much of the core game relies on multiplayer, so it will have two beta tests instead of a single multiplayer beta test.
Over on the official Treyarch community site, there's a brief article about the two betas for Black Ops 4, including a private multiplayer beta that will start on August 3rd for the PlayStation 4. Don't worry, though, if you're gaming on PC or the Xbox One you'll be able to jump into the action the following weekend, on August 10th, that will allow PC and Xbox One gamers to experience the private beta.
So, just to be clear, the PS4 beta will run from August 3rd starting at 10:00 a.m. Pacific Standard Time and it will end on August 6th at 10:00 a.m. Pacific Standard Time. The agnostic beta for the PC and Xbox One will run from August 10th starting at 10:00 a.m. Pacific Standard Time to August 13th at 10:00 a.m. Pacific Standard Time. Now, keep in mind that there are two start times for the PC version of Call of Duty: Black Ops 4. Those of you with a Battle.net account will be able to start playing the game on August 10th at the specified time above, whereas those of you who don't play on Battle.net will be able to experience the open beta starting August 11th at 10:00 a.m. Pacific Standard Time. The end times will be the same for all consoles and PC platforms on August 13th.
The second beta will take place in September, where the first look at Black Ops 4's Battle Royale will be on display for PlayStation 4 gamers. The beta will allow Treyarch to offer a custom-crafted experience for gamers and allow everyone from around the world hop in and offer feedback in order to make sure that when the game launches Treyarch can add the final touches to make the game as pristine as possible.
Treyarch also has plans on expanding on what sort of feedback the developers receive during the beta runs to improve on the core multiplayer experience, as well as provide gamers with a better and more refined Battle Royale experience, which will be the first time that a Call of Duty game features such a mode.
Battle Royale has been all the rage, especially with games like PlayerUnknown's Battlegrounds and Fortnite making the mode mainstream. Other companies have been following on their heels such as Radical Heights and various mobile titles, too.
The private multiplayer beta for Black Ops 4, however, will feature six playable maps, several Specialists to choose from, along with additional modes such as Team Deathmatch, Domination, Hardpoint, Control, and Search & Destroy.
Details on the private beta taking place in September haven't been rolled out just yet, but expect the info to arrive closer to the release of the beta.
Your Daily Blend of Entertainment News
Staff Writer at CinemaBlend.