Soul Calibur VI Producer Apologizes For The Way Tira Was Announced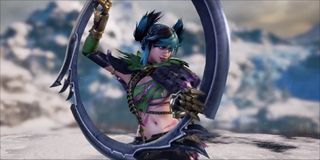 (Image credit: Bandai Namco)
Fighting games have pretty simple rules: you announce the game, you announce or slowly reveal the main playable characters, you release the game, you profit. Sounds easy right? Well, in today's climate it's not so easy. In fact, it's become rather difficult for gamers to just get straight game announcements without a lot of other controversies latching on like some kind of parasite. Unfortunately, this kind of tactic managed to hit Soul Calibur VI just a couple of months before its launch, forcing gamers to get on the defensive. The issue came in with the way Bandai Namco announced one of the popular series' favorites, Tira, who was announced for Soul Calibur VI as a day-one DLC purchase. This did not sit well with fans at all, forcing the producer to come forward to apologize about the announcement.
In an interview with Kayane, Soul Calibur VI producer Motohiro Okubo apologized for announcing Tira as a DLC character even though the full roster for the game has yet to be unveiled. Okubo noted...
So far, the team has announced other longtime fan-favorites such as Mitsurugi, and the ever-so-popular Isabella Valentine, along with the kunoichi Taki, and the very weird but lovable Voldo. Others like Seong Mi-na also made the cut, along with Zasalamel.
Namco also revealed that guest character Geralt of Riveria from CD Projekt Red's The Witcher series will also make the cut.
However, some fans became peeved when they found out that Namco was announcing longtime favorite Tira as a DLC character instead of a main roster pick. It also set a bad taste in the mouths of gamers knowing that Bandai Namco wants people to pay extra for this character without first revealing all of the content contained within the $60 purchase.
According to Okubo, it was a battle to get Tira included in the full game due to having to make some "complicated" adjustments. Okubo states that, due to her popularity, they included her, but she wasn't originally supposed to be. He said:
This somewhat ties into what Okubo mentioned to DualShockers about having to really pressure Bandai Namco's higher-ups just to greenlight the development of Soul Calibur VI, as the company was already focused on its other prime-time fighter, Tekken 7.
Hopefully everything works out as intended because it would be a shame to see the series get shelved due to poor sales. Worse yet, it would be a bigger shame if the DLC mishap caused people to "nope" out of buying the game the way they did with Street Fighter X Tekken from all those years ago. We'll see how it all plays out when Soul Calibur VI launches on October 19th later this year.
Staff Writer at CinemaBlend.
Your Daily Blend of Entertainment News
Thank you for signing up to CinemaBlend. You will receive a verification email shortly.
There was a problem. Please refresh the page and try again.