New Soul Calibur 6 Video Reveals Taki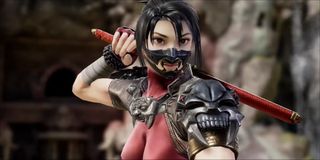 Bandai Namco revealed the full trailer for Taki, also known as Fu Ma's Shadow, as the kunoichi makes her return to the Soul Calibur series after having gone missing in action during Soul Calibur V. The trailer is short and sweet, giving you look at many of her moves and abilities.
The trailer was posted on the Bandai Namco YouTube channel, featuring a minute worth of gameplay from Soul Calibur VI, as Taki takes the stage with her Rekki-Maru and Mekki-Maru ninja swords. Before getting into the gameplay we also learn that her fighting style is known as Musoh-Battoh-Ryu, combining quick strikes and aerial slashes with some anti-demon magic attacks.
After making a dynamic entrance in the upcoming fighting game, we see that Taki's outfit very closely resembles the getup she had in both Soul Calibur II and Soul Calibur III. She's sporting the open-mouth mask and armor stylings from Soul Calibur III, but the chest harness, pauldrons and body suit are all designed after the outfit she had in Soul Calibur II.
New to her visual aesthetic in the upcoming fighting game is the appearance of the protective symbols across her armor and body, which glow every time she uses a power move or special ability.
In fact, the first attack we see in the trailer is Taki using a barrier to push back Zasalamel. She follows it up with a diving kick attack, which has been part of her arsenal since she appeared in Soul Edge two decades ago.
Some of the new abilities we see include Taki being able to link some of her basic attacks into leaping aerial grabs. The transition here is absolutely seamless, and it's hard to tell where one combo begins and another ends.
Taki also has the signature air blast, which pops opponents high up into the air, prepping them for a vicious air juggle. It reminds me of the double foot lift that Yoshimitsu has from Tekken. In fact, both Yoshimitsu and Taki are very similar in being able to utilize off-kilter maneuvers to subvert and rout opponent's expectations.
We also see some of Taki's counterattacks on display, which is new to Soul Calibur VI. Taki is able to defend and deflect attacks and then launch a counter-offensive that allows her to utilize her agility to string together a series of moves to throw her opponents off base.
The trailer ends with Taki performing her super move on her opponents, which is a mixture of quick slash attacks and an explosive finish.
Some gamers have criticized Taki for not being as fast as her previous incarnations, but many others are happy that she's mostly stayed the same since previous entries as well. Since this is a prequel, it takes place before the events of Soul Calibur V, where she went missing, so it will be interesting to see what her story will be in this upcoming outing for the PC, PS4 and Xbox One.
Your Daily Blend of Entertainment News
Staff Writer at CinemaBlend.
Your Daily Blend of Entertainment News
Thank you for signing up to CinemaBlend. You will receive a verification email shortly.
There was a problem. Please refresh the page and try again.