Enhance Assassin's Creed: Odyssey By Turning Your Alexa Into Alexios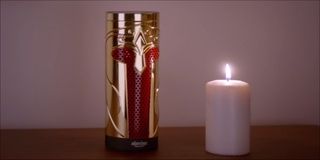 It's that time of the year where the ratcheting up of promotional marketing and cross-over content gets center stage in the advertising arena for the holiday season's big AAA releases. Typically, you can expect to see popular brands plastered all across subways, on billboards, throughout Time's Square, on coffee mugs, in Happy Meals, or in some rare cases... through Alexa. Yes, Ubisoft and Amazon have teamed up for yet another cross-branded marketing ploy that sees Assassin's Creed: Odyssey slipping into the realm of voice-operated tech by allowing users to purchase an Alexa device based on the Spartan warrior Alexios.
The trailer was posted on the Ubisoft YouTube channel, where a two and a half minute video highlights the comedic effect of Alexios living in the home of a suburban family. The trailer sees a live-action version of Alexios from Assassin's Creed: Odyssey standing in place of where the Alexa device would be, with the family asking him various questions about the weather, traffic, and bedtime stories. Alexios gives the family a constantly grim-sounding account of the things they ask about, almost as if he's ready to dive headfirst into battle.
If you already own an Alexa device from Amazon you can enable it to make use of the Alexios update by saying "Alexa, open The Spartan." This will open up Alexios and allow you to experience what Ubisoft calls a "stoic, steeled" Spartan warrior.
You have access to a number of different options, including being able to ask Alexios about various in-game features in Assassin's Creed: Odyssey. For instance, near the end of the trailer we see that while the husband and wife are playing the game and ask about certain historical elements and mythologies featured in the game. The trailer nor the press release mentions if Alexios will simply provide information based on the in-game lore or if it will actually use real-life historical records to inform and educate listeners, but the option to get additional information about locations, characters, and events is possible.
In addition to learning about the game world, there are also additional features that carry over from the basic Alexa device, such as being able to ask Alexios to read you a bedtime story, or to get weather information, or have Alexios tell you a joke, or setup a shopping list.
You'll also unlock an in-game Spartan skill for activating Alexios on an Echo device from Amazon. There will be 1,500 responses in total, and the skill is compatible with the Echo Plus, Echo Dot, Echo, Echo Spot, and Echo Show. The Alexa-enabled companion skill will be available to use with Assassin's Creed: Odyssey starting with the game's early access launch for those who pre-ordered the game on October 2nd.
Ubisoft and Amazon had a limited number of Alexios Alexa devices produced, which turns the Echo Plus into a Spartan helmet. So, you can pick up one while supplies last.
Your Daily Blend of Entertainment News
Staff Writer at CinemaBlend.