Assassin's Creed Odyssey Is Coming To Nintendo Switch, In Japan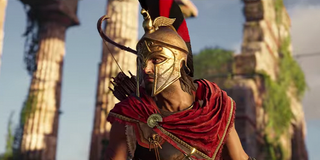 One of the fall's biggest games, Assassin's Creed Odyssey, is set to launch on the Nintendo Switch, but only as a streaming title available in Japan. This is the third cloud-based game to launch in Japan and, while there don't appear to be plans to expand outside of the region, it shows that creative thinking can allow Nintendo's portable console hybrid to play games it definitely doesn't have the on-board muscle to run.
This past week's U.S. Nintendo Direct boasted all sorts of great announcements, including a new fighter in Smash Bros., the official reveal of a new Animal Crossing game and even a couple of surprises like Katamari Damacy Reroll. In Japan, though, their expo came with an extra announcement concerning the upcoming launch of Assassin's Creed Odyssey on the Nintendo Switch. It's set to debut in early October on other platforms, so you wouldn't be faulted for thinking Odyssey is simply too demanding to run on Nintendo's new console. But following a trend set earlier this year with several other games, Ubisoft is looking to dip its toe into relatively uncharted waters with cloud-based gaming.
As is being reported by Polygon, Assassin's Creed Odyssey will be available on the Switch as a daily rental through a streaming client. The price is apparently set at $6.50, which seems a bit steep for modern standards. Still, if you really want to play the series' latest outing in the palm of your hands, then cloud-based gaming is the way to go. Also, you'll be able to simply buy the game outright for streaming on the Switch, so it seems likely the rental is intended as a way for skeptical gamers to try it out for a couple of days before committing to the full purchase.
Earlier this year, Capcom found success with a similar streaming model for their 2017 hit, Resident Evil 7, also only available in Japan. Players were able to tackle the entire game and its DLC simply by streaming the content to their Switch, made possible through a rental service that saw folks forking over about 20 bucks for six-month rentals, and they only had to download a small client to their consoles to gain access.
Given the fact that Assassin's Creed will launch on the Switch day-and-date with other platforms in Japan, it'll be interesting to see how many folks decide to play Odyssey on their Switch rather than another format. I mean, the console docks to your TV, too, so it should be able to offer the exact same experience even though the Switch itself could never run the game offline.
If Ubisoft finds success here, it'll be interesting to see if they decide to do something similar with other games, or if other publishers will take the model for a spin. If it gains enough steam, maybe we'll even see it available outside of Japan someday, too, especially after Nintendo's online service finds its footing in the U.S. and beyond.
Your Daily Blend of Entertainment News
Staff Writer for CinemaBlend.