Fortnite Warns Against V-Bucks Scams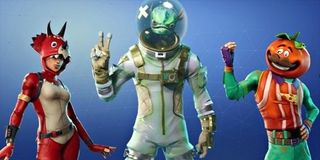 If a Fortnite player or website is offering the in-game currency, V-Bucks, at a discounted price, you might want to run in the opposite direction. According to Epic, there have been a few scam sites popping up, and players should avoid them at all costs.
The above tweet comes directly from the Fortnite feed, encouraging players to keep an eye out for scams related to the game. In short, if you decide you want to purchase some V-Bucks, you should only carry out that transaction through either the official Epic Games website or the Fortnite site, links to both of which are provided in the tweet.
The core Fortnite PVE experience, Save the World, is still in early access and, therefore, carries a price tag for those wanting to test the game early. However, Battle Royale, the hugely popular 100-player showdown, is a free-to-play offering anyone can enjoy on the PlayStation 4, Xbox One, PC or mobile. Being a free-to-play game, there are all kinds of cosmetic items you can earn simply by earning experience and leveling your character up. There's also a "Season Pass" feature that lets you earn some gear instantly at the start of each season, as well as earn additional cosmetic gear as you level up.
However, there are also a whole bunch of cosmetic items that can be purchased for V-Bucks. If you see a dinosaur costume or steampunk pick you really like, you can spend some of your hard-earned V-Bucks on unlocking those items. Or, obviously, you can spend some real-world money and net yourself some V-Bucks the easy way. That's where the scammers come in.
According to Epic, they have not set up any partnerships with outside sites, so you shouldn't be buying V-Bucks from any website or player promising the in-game currency at a discount. Players have been reporting sending their credit card information to these types of sites and, big surprise, they're not getting anything out of the transaction other than a need to call up their credit card company and order a new piece of uncompromised plastic. In the comments, other Fortnite players have stated that they've heard players in group chats within the game offering a similar scam. In other words, if you jump into a team with random players and one of them starts talking about how they'll sell you some V-Bucks for a cheap price, ignore them. Even better, report them to Epic with a quickness.
As an added precaution, the recent Fortnite warning included a link to the game's account security page. There was a security breach a while back, resulting in quite a few players' information getting swiped. If you've received an email from Epic stating that someone has unsuccessfully tried to log into your account in recent months, that's likely the reason. As a precaution, Epic suggests players never share their passwords with other players, avoid fake offers and activate two-step authentication.
Staff Writer for CinemaBlend.
Your Daily Blend of Entertainment News
Thank you for signing up to CinemaBlend. You will receive a verification email shortly.
There was a problem. Please refresh the page and try again.