Fortnite Season 6: Everything You Need To Know Before It Starts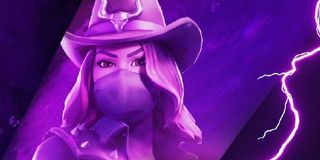 The highly-anticipated sixth season is set to kick off in Fortnite tomorrow, which means speculation is running wild concerning what players can expect in terms of theme and content. We've rounded up all of the bits and pieces that are available up to this point, which should help everyone prepare for the big reveal on Thursday, Sept. 26.
While Fortnite's seasons began as little more than themes to drive new skins players can get their hands on, they've evolved quite a bit over the past year. Each new season still boasts a theme (Space, superheroes, etc.), but now Epic enriches these events with things like special events, new content updates and even an evolving fiction taking place within the game world.
Mysterious cube
Heading into season six, the big thing on everyone's mind is the mysterious purple cube that magically appeared partway through the current season. The current season plays host to an unexpected theme, one that rips a hole in time and space. This meant new skins that featured everything from Vikings to cyberpunk warriors who looked like they were ripped out of an anime. At the same time, this most recent season literally altered the entire map, introducing new biomes, plenty of new points of interest and even a few landmarks that matched the bizarre timeshift theme.
A few weeks back, however, a massive purple cube appeared on the game map in the desert biome. This thing is about as mysterious as it gets, healing players who stand near it, harming players who try to attack it, and did we mention it's covered in runes? More recently, the cube has moved across the map and eventually settled into the water of Loot Lake, which has now been tinged the same purple as the cube. Oh, and players can now bounce across the surface of the "water."
It seems likely Epic is planning additional alterations to the Fortnite map, so we'll just have to wait and see what tomorrow brings.
Trio of teasers
Earlier this week, the Fortnite Twitter feed started posting a collection of teaser images for the sixth season, beginning with a skin that appears to be a player wearing a cybernetic llama head. The llama is the game's mascot, and the background boasts the same purple hue and lightning players now associate with the cube. The only other information is a single quote that "all great parties need a DJ."
A day later and Epic posted a new image boasting what appears to be a mix between a biker and a cowboy, with the phrase "saddle up." Today's image was more surprising, a menacing werewolf. There's no catchy quote with this one, only a message that season six kicks off tomorrow.
Theme theory
Given the timing of these events, the big theory that seems to be gaining the most traction is that Fortnite is about to play host to a massive Halloween party. While this is clearly tied to the cube in some way, that doesn't mean this upcoming event is the cube's final purpose. Instead, maybe this continued mash-up of themes is going to be a lingering occurrence while the cube's true purpose plays out. For now though, it seems pretty likely that a Halloween throwdown is about to unfold in Battle Royale.
Pesky leak
The only other major talking point right now is a leak that popped up recently on the PlayStation Store before being quickly removed. The only copies of the image I can find can be found here but, outside of the llama DJ and goth biker, it looks like one of the characters is wearing a dog in a sling for back bling while another skin looks to be one of those inflatable costumes that makes it look like the avatar is riding a llama. The dog has folks convinced pets are coming to Fortnite (which seems kind of weird since they'll be getting shot at), and the avatar skin gives even more strength to the Halloween party rumors.
Thankfully, all we be revealed when Fortnite's sixth season goes live tomorrow.
Your Daily Blend of Entertainment News
Staff Writer for CinemaBlend.