Star Wars: The Clone Wars Voice Actors Are Joining Battlefront II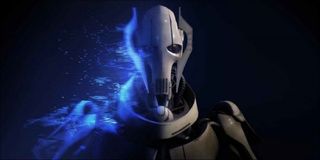 (Image credit: Electronic Arts)
During the mid-aughts there were a number of voice actors who became synonymous with the animated forms of Star Wars, especially The Clone Wars. Well, some of those actors who helped bring those characters to life from that era of the super popular property will be making the leap over to DICE's Star Wars: Battlefront II.
Over on the official Star Wars: Battlefront website, there's a short post about how several voice actors from Star Wars: The Clone Wars show will lend their voices to the characters in Star Wars: Battlefront II. This includes Matthew Wood reprising his role from Revenge of the Sith and The Clone Wars animated series as General Grievous, playing the fearsome Separatist leader once more in DICE's take on the popular space fantasy franchise.
Joining Wood from The Clone Wars animated show is James Arnold Taylor, who voiced Obi-Wan Kenobi. He will be reprising his role as Kenobi in the game as part of the DLC pack that goes live in November.
Shortly after that gamers can look forward to yet another DLC pack set to release next year in January 2019 for PC, PS4, and Xbox One. The DLC will feature the return of Count Dooku, voiced by Corey Burton. He, too, is also an alumni from the Clone Wars animated TV series, with his characterization being based on the live-action performance from veteran actor Christopher Lee.
Last, but not least, is Matt Lanter, who will be voicing Anakin Skywalker for a DLC pack due for release in February of 2019. Lanter played Skywalker in the Clone Wars show, and also noted that he grew up playing first-person shooters and has always loved video games, so it's a natural fit for him to have another opportunity to play the role of Anakin Skywalker in Star Wars: Battlefront 2.
Despite the game getting off to a rocky start (for a Star Wars title, anyway), Electronic Arts and DICE have been adamant in supporting the game and pushing forward with releasing new content to win back gamers after the initial loot box fiasco.
Winning back gamers wasn't EA's only problem, though. The company also had to deal with gambling commission regulators from different regions who made it known that premium loot boxes were considered gambling, and that unless there were proper licenses administered, loot boxes would be illegal under regional laws.
Despite Belgium and Netherlands clamping down on loot boxes, EA and DICE decided to focus on the actual content for Star Wars: Battlefront II hoping to cement the game's legacy with a focus on new DLC, stages, and characters, including many of the ones that gamers loved from back in the mid-aughts when Star Wars: The Clone Wars was airing.
You can look (and listen) for the characters to start making their debut in Star Wars: Battlefront II for the Xbox One, PS4 and PC starting this November, and the new characters will keep rolling out with each expansion pack released thereafter.
Your Daily Blend of Entertainment News
Staff Writer at CinemaBlend.