9 Awesome Movies You Need To Watch Before They Leave Netflix In February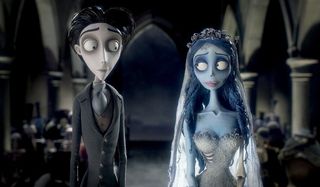 February is for Netflix lovers, as several new titles are looking to court the eyes and ears of subscribers throughout the month. But, that means that some films are going to be breaking up with their potential audiences, as they'll be leaving the platform throughout the month. Out of the numerous titles that will be departing that long and lonesome road in the second month of 2018, there are nine that we suggest you meet up with one last time. It's only fair, as they've been there for you all this time, waiting for you to come back. Grab your tissues, practice your goodbyes, and take a look at who's leaving Netflix in February.
Corpse Bride
File this one under just a tad too soon, as Netflix could have rode this baby through at least another month of views in the pre / post Valentine's market. A spiritual successor to The Nightmare Before Christmas, Corpse Bride is another stop-motion animation feast from the mind of Tim Burton, which most people tend to overlook when compared to that previous film. With a voice cast that boasts Johnny Depp, Christopher Lee, and Helena Bonham-Carter, in addition to a musical score by the legendary Danny Elfman, Corpse Bride is quintessentially a Tim Burton produced film through and through, telling a tale of love spanning the worlds of the living and the dead.
Hard Candy
It's kind of hard to believe that Hard Candy is only 13 years old, but the film that kick-started both Ellen Page and Patrick Wilson's careers is in fact that old. A revenge tale between a young teen and a man she presumes to be a sexual predator, the David Slade-directed film is a taut thriller that still holds up, thanks to its near minimalist approach. As the shifting power dynamic between Page's vengeful youngster and Wilson's would-be assailant progresses, the film becomes more and more extreme, leading to an ending that still resonates to this day.
How to Steal A Million
While Ocean's Eleven is heading to Netflix in February, it comes at the cost of jettisoning How To Steal A Million, a crime classic that trades on a very similar plain. Starring Audrey Hepburn and Peter O'Toole, the film is a story of an art forger's daughter (Hepburn) who enlists the help of a thief she's recently met (O'Toole) to do something extremely peculiar. In particular, she wants him to steal a forged statue from her father, so as to prevent it from being outed as a fake. A classically cool 60's comedy, this could even be good prep to jump into the world of the Ocean's trilogy; as well as standalone fun for all.
Project X
After having a massive hit with Ferris Bueller's Day Off the year before, Matthew Broderick made one of the deeper cuts in his resume, Project X. Not to be confused with the found footage party film made more recently, the film involves Broderick attempting to free a pack of Chimpanzees from an Air Force research lab, sparing them a painful death. It's the kind of film that could have only been made in the 80's, and Project X is something that adults can revisit, while introducing this lesser known classic to their kids.
Silver Streak
After decades since their last film together, there still isn't a comedy team that can compare to the late Richard Pryor and Gene Wilder. Maybe it's because the pairing was so random, that it had to be magic. Or maybe it's because films like Silver Streak are so far and few in-between in this day and age. In either case, the murder mystery / comedy was the creation of a comedic duo that is still fondly remembered to this day, and you can see for yourself why. Just don't wait too long to do so.
The Longest Day
Before Dunkirk, Band of Brothers, or even Saving Private Ryan made their memorable versions of beach warfare during World War II, there was The Longest Day. A film that Dunkirk especially owes a debt of gratitude to, this epic spans multiple sides of the D-Day invasion, in the lead up and execution to the day itself. Starring John Wayne, Robert Mitchum, and Henry Fonda, just to name three in a pretty impressive cast, The Longest Day is one of the earliest filmed versions of the heroic acts that took place on Normandy Beach. it's still regarded a classic, and would make for an interesting comparison with Christopher Nolan's Oscar nominated drama.
The Nightmare Before Christmas
If Corpse Bride has you feeling sentimental for Jack Skellington and his most memorable adventure, then you should also revisit The Nightmare Before Christmas before it disappears. A cross between a Rankin Bass Christmas special from the 60's, and Tim Burton's wildest imagination, this tale of Halloween and Christmas colliding is a thrilling ride of musical moments and memorable action. If you're still in the mood for some overdue Christmas cheer, this is your best bet outside of the Hallmark Channel.
Honeymoon
A honeymoon is typically a time for a newly married couple to celebrate their vows, enjoy each other's company, and maybe get into a little bit of misadventure. But in the case of the indie horror film Honeymoon, that little misadventure turns out to be deadly serious. As a young couple rewards themselves with a forestral getaway, one of them goes missing, only to return with a deadly secret. The dread only increases as the film's central mystery unfolds, turning this vacation into a hellish race for survival.
Freakonomics The Movie
Normally, economics is considered to be a subject that's as boring as it is rewarding to the common passer-by. That's not the case with Freakonomics The Movie, as much like the book that spawned it and its podcasting successor, it looks into economic subjects that most people don't consider. Through a series of four vignettes, Freakonomics The Movie engages film-makers such as Morgan Spurlock and Alex Gibney to help investigate subjects like urban crime, how a person's name can affect their chances at a job, and even the world of sumo wrestling. It's a truly unique movie, and it's on its way out the door in February.
Your Daily Blend of Entertainment News
Senior Movies Contributor
CinemaBlend's James Bond (expert). Also versed in Large Scale Aggressors, time travel, and Guillermo del Toro. He fights for The User.