How Star Wars Battlefront II Is Changing The Squad System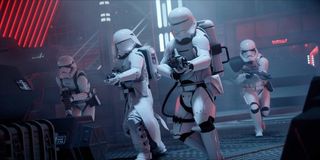 (Image credit: Electronic Arts)
Last year Star Wars: Battlefront II made headlines for all the wrong reasons, mostly involving loot box microtransactions and a lengthy and damaging discussion about video games and gambling, which eventually led to multiple regions reinforcing their gambling laws that included barring the use of loot boxes in premium-priced games. Publishers have been scrambling to completely overhaul some of their systems to accommodate the new restrictions, something that EA had to implement last year when Star Wars: Battlefront II first launched. The company is now focused on other aspects of the game, such as quality of life and squad management, all in an attempt to improve overall playability. The latest update for Star Wars: Battlefront II completely changes the way players spawn into the game, making it a lot more effective than when the game first launched.
The details for the changes were outlined over on the Battlefront forum, where a changelog explains that the new squad system allows players to re-join the action much quicker than before. This includes players having the option of grouping with friends, which will place all the friends into a squad together. This means that when you bite the dust in an untimely manner, you'll be able to respawn using an all-new spectator camera method.
Basically, once you're dead there's a spectator camera that will allow you to watch the other living members of your squad. When you focus the camera on another teammate you'll then have the option to spawn directly on their position. This will allow you to quickly get back into the action without having to trudge your way to your teammate's position, which is usually how it works in games like Battlefield or Call of Duty.
You can also use the spectator camera to select different teammates to spawn on their location, enabling you to cycle through the squad members until you find someone who you feel is in a good enough position where they could either use your help or help you regain your bearings before diving headfirst back into battle.
If you don't have a group that you're aligned with in Star Wars: Battlefront II, you'll be randomly assigned to a squad when you spawn into the match. You'll still have the option to respawn based on the position of your teammates.
DICE also implemented a brand new 2-vs-2 private match for the Hero Showdown that makes use of the new squad system respawn mechanic, so it should be interesting to see how players make use of that feature.
The developers have also improved screen flow for quicker spawns even when squad spawning is not present, and squad spawns have also been added to Galactic Assault and Strike.
The changelog reveals a number of other quality of life changes, including improved end of round matchmaking, so that more players will be shuffled around to more matches more often. The game client looks more spiffy when searching for an online game, and some new ping site changes have been implemented to improve finding a game and being paired in games through an improved matchmaking system.
All of these features and lots more content have been added to Star Wars: Battlefront II during the September update for all three platforms, including the PC, Xbox One, and PS4.
Your Daily Blend of Entertainment News
Staff Writer at CinemaBlend.