CS: GO Players In Belgium And The Netherlands Can No Longer Open Loot Boxes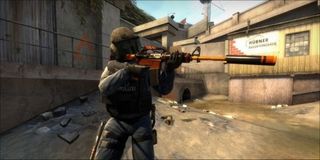 (Image credit: Valve)
The loot box fiasco has been going on since November of 2017. Last year a lot of gamers got angry about how predatory loot boxes were invading premium priced games like Star Wars: Battlefront II, and campaigned to have the pay-to-win mechanics removed. They were successful. The aftermath of that campaign managed to spill over into the political sector, where various gambling commissions from around the world ended up getting involved and putting some restrictions in place on the use of loot boxes. Both Belgium and the Netherlands banned loot boxes in their regions, and now gamers who have grown accustomed to opening up loot boxes in games like Counter-Strike: Global Offensive can no longer do so.
The news about the restriction comes courtesy of an update over on the official Counter-Strike website, where there's a changelog for the latest patch, which means that there are now CS: GO account restrictions for users in the Netherlands and Belgium, prohibiting them from accessing the loot box containers in the game.
Valve did, however, re-enable access to the Steam Trading and Steam Market utilities for those in the Netherlands. One of the initial side-effects was that the company had to disable all access to the trading markets until a patch could be issued to prevent those from Belgium and the Netherlands from accessing loot boxes.
This move comes after the gaming commissions in both regions laid down the law by mandating that loot boxes are recognized as gambling and that they cannot be used in video games unless a gambling license is issued and approved by the authorities. Of course, if you legally certify that your game is gambling, it automatically ratchets up the rating to the highest one available, given that in most regions gambling is restricted for use only for those legally classified as an adult.
In America, if a game is classified as an actual piece of gambling software, the ESRB automatically has to label it as an AO+ game, which stands for Adults Only. This is one of the reasons why the ESA and other publishers have been vehemently pushing against the classification of loot boxes as gambling because it means a number of high-profile games will be slapped with an Adults Only rating. The downside (for publishers) is that AO games are not permitted on the home consoles, and are prohibited from being sold by the platform holders. This would effectively affect games such as Overwatch, nearly all of EA Sports' titles such as EA Sports UFC and the newer FIFA games, along with titles such as Middle-Earth: Shadow of War.
The aforementioned titles, along with Counter-Strike: Global Offensive and Dota 2, were part of the Belgium and Netherlands gaming commissions' investigation into predatory loot boxes. The commissions found that the loot box mechanisms were identical to roulette machines, and in some cases had fostered gray market resellers to make real-world money on loot box earnings, thus turning them into actual gambling houses.
The loot box business is absolutely huge, with more than $5 billion in revenue being accrued in 2016 within the CS: GO skin gambling arena alone, as reported by TechRaptor.
Valve has been the only major publisher so far to acquiesce to the demands of Belgium and the Netherlands, while Electronic Arts and Activision have been reticent about addressing the loot boxes featured in games such as FIFA and Overwatch.
Your Daily Blend of Entertainment News
Staff Writer at CinemaBlend.