PS4's Spider-Man Really Came Through For Sony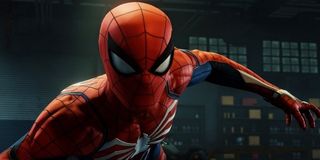 (Image credit: Insomniac Games)
Superhero games might seem like a quick way to cash-in on the popularity of a franchise and make some quick bucks on home consoles or PC. However, quick cash-ins are a dangerous endeavor and have oftentimes resulted in games becoming sales failures. Insomniac Games didn't want to do a cash-in when it came to Marvel's Spider-Man, and it turns out that the hard work, dedication, and attention to detail really came through for both Insomniac Games and Sony.
Bloomberg is reporting that Sony's PlayStation division managed to pull in some strong numbers throughout the quarter and a lot of it was thanks to the release of the first-party title, Marvel's Spider-Man, which launched on the PS4 as an exclusive back in September.
As noted in the Bloomberg report, Marvel's Spider-Man selling 3.3 million copies during its first three days on the market helped bolster the market profile for Sony, which has led to the company beating market forecasts even after Sony lifted its revenue expectations for the September quarter.
The PlayStation division saw a 65% revenue increase in year-over-year performance compared to the same time in 2017.
The article notes that this was due to a lot of forward momentum that Sony picked up back in early 2018, starting with the release of God of War in the spring, which not only garnered a lot of positive feedback from critics but also managed to sell 3.1 million copies during the first three days of release. This momentum carried over into the release of Marvel's Spider-Man in September, when the game topped God of War's sales within the same three-day sales period, and then went on to follow that up with some post-launch DLC in October.
It seems as if Insomniac Games was wise in how the studio gauged market interest in the game by keeping DLC rolling out at regular intervals, especially given that Marvel's Spider-Man has one of the highest percentages of platinum trophies achieved among PS4 gamers. For reference, in order to acquire the platinum trophy it means you've completed all the major quests and side-quests in the game and completed every other trophy requirement. So, despite it being a massive open-world game, gamers absolutely love the world that Insomniac crafted based on the Spider-Man property.
Analysts expect Sony to maintain strong revenue throughout the remainder of 2018 thanks to other strong releases such as Red Dead Redemption 2, and the popularity carried over from Activision and Treyarch's Call of Duty: Black Ops 4.
However, it was Marvel's Spider-Man that probably took a lot of people by surprise, because superhero games have been hit and miss over the years, with only Rocksteady's Batman Arkham series being a high-quality example of a great superhero game and a great open-world stealth-action title, overall. And, now, Insomniac gets to join that rare and illustrious club of developers who can say that Marvel's Spider-Man was one of the few games that helped push Sony above and beyond the analysts' forecasts.
Your Daily Blend of Entertainment News
Staff Writer at CinemaBlend.