The Next Overwatch Update Will Require A Full Re-Install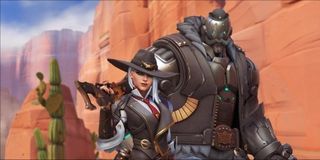 (Image credit: Blizzard)
Those of you out there who may have been begging for a huge new update for Overwatch might be walking back those thoughts now that it's been revealed that the next major patch for the game will require you to completely reinstall the entire game.
The news was revealed over on the Blizzard forums, where community support Drakuloth made a post informing gamers that the patch would be quite huge and that while there is no release date or time frame on when the massive new patch will be inbound, the entire client will have to reinstall itself to accommodate all the big new changes. Drakuloth stated...
To further explain why this is happening, the developers at Blizzard working on Overwatch have changed so much of the fundamental infrastructure on how the client operates, manages content, will handle future updates, and streamline patches into the game, that the team decided it was best if players just completely reinstall the brand new client to handle all of these massive new changes set to take place.
This post was made after users began complaining about the file size for a background update in queue for an update that totaled 6GB in size, while others noted that the total install would require downloading 30GB worth of data. Obviously, 6GB is big enough to be an entirely new game, just the same as 30GB, or in this generation it's big enough to be a few texture packets for a 4K UHD Xbox One X title. Either way, a lot of the people playing Overwatch are doing so on low-end PCs or on home consoles. As mentioned by some of the users in the forum threads, some of these gamers are on limited bandwidth connections and so they're monitoring how much bandwidth they're actually using each month.
Some have speculated that the patch already contains Ashe and her partner Bob, and this is also partly why the update is going to be so large, but Ashe made her appearance in the most recent patch on November 13th. Ashe was also just recently announced at this past year's BlizzCon that took place in Texas, where a rather precarious thing happened with Diablo: Immortal. But, I digress.
Regarding the Overwatch patch... the new update and its massive reinstallation file may prove difficult for some gamers on metered or unreliable connections. So far, the community support staff has offered no advice on whether or not gamers will be able to download the patch in segmented files, but I'm sure Blizzard will offer some options to download the update in a way that doesn't completely clog up a user's bandwidth, similar to how Valve allows gamers to either schedule patching/downloading or throttle the bandwidth for games in Steam.
The massive reinstallation patch will be required for the PC, PS4, and Xbox One versions of the game. If you have plans on installing it, be sure that you have enough bandwidth free if you're on a monthly cap, and make sure to set aside some hours (or days) for the download to complete.
Staff Writer at CinemaBlend.
Your Daily Blend of Entertainment News
Thank you for signing up to CinemaBlend. You will receive a verification email shortly.
There was a problem. Please refresh the page and try again.