Gears Of War Creator Cliff Bleszinski Is Apparently Done Making Games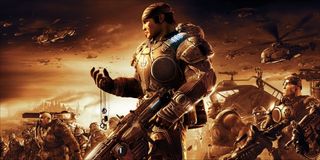 (Image credit: Epic Games)
Cliff Bleszinski is best known for helping Microsoft dominate over Sony during the seventh generation of gaming with the Gears of War trilogy while he was working at Epic Games. The evolution of the Unreal Engine had direct synergy with the gameplay and tech advancements featured in Gears of War, which made it both popular as a game and as a showcase for evolutionary software tech. It quickly made Bleszinski a millionaire since it attracted a very targeted demographic who loved the series. Well, that's all coming to an end since he's apparently done making games, as he revealed in the below post:
In a tweet reply on his official Twitter account, Bleszinski, best known in the gaming world as Cliffy B., responded to a gamer who was asking for a refund of Lawbreakers since the game is no longer supported following the closure of Boss Key Productions, Bleszinski's production company. The game originally came out in 2017 and shut down a year later in 2018.
The long-time developer responded by saying that he had to pay for everyone's salary, 401K and health care first, even after the studio folded, and that he hadn't taken a salary for himself for two years.
In the tweet, Bleszinski states that he's done with making games and never making another game. This was further reiterated and confirmed by GamesIndustry.biz, who reached out to Bleszinski to confirm if the claims were true, and he responded by stating "I'm done."
This wouldn't be the first time that Bleszinski called it quits on gaming. Following his tenure at Epic Games working on the Gears of War trilogy, Bleszinski also called it quits after shipping the Xbox 360 exclusives in 2012. However, just three years later in 2015, Bleszinski was back at it and he decided to scratch that itch to create something new. That something new turned out to be Lawbreakers for PC and PlayStation 4. The first-person shooter was an anti-gravity PvP game with a theme based around the hero-shooter gimmick where each character had their own personality, abilities and weapons.
However, the market had already had its champions cornering the hero-shooter gimmick, with Team Fortress 2 leading the charge and Overwatch not being far behind. Much like Gearbox Software's Battleborn, which was another hero-shooter that came out around the same time as Overwatch.
None of the other hero-shooters seemed to fare all that well either other than Overwatch in recent times. Sadly Lawbreakers was one of those games that just did not do well on the market.
Boss Key Productions attempted one final outing before closing up shop and tried its hand at Radical Heights, but even though the game managed to capture a solid audience in the Battle Royale genre, it was too little too late.
After having to shut down Boss Key Productions and closing up Radical Heights and Lawbreakers, and having to deal with the backlash from the community, Bleszinski decided to finally hang up the gloves and step out of the ring of gaming.
Your Daily Blend of Entertainment News
Staff Writer at CinemaBlend.