LawBreakers Will No Longer Be Updated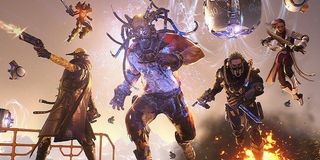 It's a sad day for fans of LawBreakers, no matter how small that particular group might be. According to the latest announcement concerning Boss Key Productions' gravity-defying arena shooter, future development for the game has officially come to a close.
It's been a long, trying road for LawBreakers, the latest offering from Cliff Bleszinski's (Gears of War, Unreal Tournament) new studio, Boss Key. This first-person shooter was their first major release, a bargain-priced arena blast-a-thon that had high production values and some truly unique mechanics that let players mess around with traversal and gravity. But whether it was poor promotion, competition with games like Overwatch or PUBG, or some unknown factor that kept it off many folks' radar, the game hit the market with a resounding thud.
In the latest announcement on the Boss Key blog, the LawBreakers team has announced that the past couple of months have been tough for the studio. They've kept pretty quiet about the game, only breaking silence now to announce that future development has been shelved. They state that they will continue to support the game in its current form, but players can basically rule out any hopes of new maps, characters, modes and the like.
That last bit is a little unclear, as it seems to hint at the fact the team is at least considering switching LawBreakers to a free-to-play model. That was the original plan for the game. But sometime before launch, Boss Key decided it would be a better idea to charge a discounted rate and provide all future updates free of charge. It seemed like a decent idea, but the players never showed up to support it.
The all-time peak for LawBreakers was just 7,482, which is where the game rested briefly right after launch. Numbers dropped quickly and, as of this writing, the past 24-hour peak on Steam was just 16 concurrent players. For comparison's sake, PlayerUnknown's Battlegrounds has an all-time Steam peak of just over 3 million and, in the past 24 hours, the peak has been just over 2 million.
If there's any good news to pull from this announcement, it's that Boss Key is apparently working on a new passion project, something they say they are "in complete control of." We hope to hear some additional details soon but, until then, at least they aren't pulling LawBreakers down completely. If this new project goes well, it sounds like the plan will be to take some of those earnings and reboot LawBreakers as a free-to-play title but, again, we'll just have to wait and see.
Your Daily Blend of Entertainment News
Staff Writer for CinemaBlend.