10 Best First-Person Shooters Of This Console Generation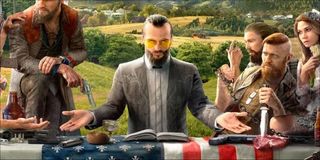 One of the most popular genres in all of gaming is the first-person shooter. The games are undoubtedly intense, visceral, oftentimes fast-paced and if they're done right, unforgettable. Well, if you're interested in the best first-person shooters so far this console generation, look no further than this list.
10. Warhammer: Vermintide 2
Fatshark's Warhammer: Vermintide series isn't talked about often despite having sold millions of copies. Vermintide 2, in particular, managed to pick up a strong following on PC and Xbox One, thanks to its high-quality visuals, unique stage designs and Left 4 Dead 2-style co-op requirements, where players have to work together to progress through the levels, defeat bosses and complete objectives. The game takes the best of Warhammer and combines it with a survival-style first-person shooter/hack-and-slash game.
9. Rainbow Six: Siege
The success of Ubisoft's 2015 release of Rainbow Six: Siege came out of nowhere following the game's initial launch. Most people didn't expect it to become one of the most popular shooter games of the generation, but it did. A lot of its success is owed to the environmental destruction that each stage houses, and the intense elimination-style gameplay that helped set it apart from everything else on the market. The fact that Ubisoft keeps the game updated with regular maps, characters, and weapons, probably helps keep players coming back for more.
8. Prey
The 2017 outing of Prey from Arkane Studios and Bethesda took a lot of gamers by surprise for a number of reasons, mainly because it was a reboot of the 2006 first-person sci-fi shooter from Human Head Studios for the Xbox 360 and PC. But it replaced the portal-hopping story with a more existential focus on alien goop monsters. The game has an intriguing story that takes some twists and turns you probably won't see coming, and it actually puts a lot of outcome of the story in the hands of the player. It's considered an underrated gem of eighth gen, and it's not hard to see why once people start talking about how much they love it.
7. Far Cry 5
Ubisoft caused quite a stir with the initial announcement of Far Cry 5. The game takes place in America for the first time in the series' history, pitting players against a religious doomsday cult out in the far corners of the fictional Hope County, Montana. The game takes many of the standard elements of the Far Cry series and then throws in two-player drop-in co-op, along with many American-themed weapons and vehicles, and a story that unfolds based on how you choose to play it. It's no wonder that the game became one of the top-selling titles of 2018.
6. Superhot VR
While many games on this list are big-name AAA titles from top-name publishers, it doesn't mean that every game on this list is going to be a AAA title. Sometimes the best things come in small packages, and Superhot is one of those games. The crowdfunded shooter is based on a simple concept that revolves around complex tactics: time only moves when you move. Whether you're throwing knives, using frying pans to knock an enemy upside the head, or dual-wielding pistols, Superhot VR is an unparalleled experience for the PlayStation VR headset that completely takes the FPS genre and dumps it on its head in the best way imaginable. If there's one game on this list worth trying above any other because you don't like FPS games, well, Superhot would be the game to try because it'll defy all your expectations.
5. Call of Duty: Black Ops 4
Initially, this spot was reserved for Call of Duty: Infinite Warfare, which is admittedly a game that received a lot more hate than it deserved, only because it was one of the most ambitious Call of Duty games ever made. Black Ops 4 is kind of on the opposite end of the innovation factor, completely removing the single-player campaign and focusing only on multiplayer and the Battle Royale mode this time around. However, sometimes it's not about a game's innovation but how well it does what it does that makes it stand out, and Black Ops 4 does everything nearly pitch-perfect, from the new Blackout mode to the standard deathmatch, to the Zombies mode. What the game lacks in single-player it makes up for with its multiplayer offerings.
4. Halo: The Master Chief Collection
There aren't many exclusive games on this list, but that's because exclusive first-person shooters on home consoles have become a rarity, save for Halo. While 343 Industries is still trying to find its way around the franchise, Halo: The Master Chief Collection has matured over the years to finally run the way it was intended to and offering Xbox One gamers the kind of classic Halo experience they grew up loving nearly two decades ago. Of course, it got off to a rather rocky start, but it's earned its place on this list (many patches later). The collection is notable for taking the classic OG Xbox and Xbox 360 titles and compiling all of the Master Chief games into one bundle while retaining the much-beloved two-player split-screen campaign co-op modes along with the coveted offline, LAN, and online multiplayer.
3. Titanfall 2
Respawn Entertainment's Titanfall 2 was a real breath of fresh air in terms of quality gameplay, an awesome campaign mode, and a sustainably replayable multiplayer component. It's a shame that Electronic Arts sent the game out to die against Call of Duty: Infinite Warfare and Battlefield 1 as a means of eating into the market share of Activision (which did work, by the way), but that meant that the game came up short in the sales department. Respawn's Titanfall 2 is hailed by many gamers as one of the best shooters of the generation that no one bought. It's probably worth checking out if you can get it at a discounted price during one of the many holiday sales going on.
2. Call of Duty: Black Ops 3
One of the best-selling games Activision ever published and one of the best-selling Call of Duty games of all time is Call of Duty: Black Ops 3. It definitely goes down in history as my all-time favorite in the series and I don't even like Call of Duty games. It was the first game in the series to include a four-player cooperative campaign mode, along with split-screen options for both the campaign mode and the multiplayer modes. The PC version also received an extra bit of something special in the form of mod support with Steam Workshop integration, making it one of the most infinitely replayable and fun first-person shooter games this generation.
1. DOOM
How could id Software's 2016 outing of DOOM not make the list? This is one of the most hardcore first-person shooter games this generation and the only game that's likely going to come close to dethroning it is DOOM: Eternal. The design is built around fast-paced shooting, non-stop combat, and enough blood and gore to make both Eli Roth and Quentin Tarantino blush. It wasn't quite the horror-themed maze-crawler from the 1990s, but it brought with it something that's been missing the entire generation: attitude. DOOM felt like a throwback to the counter-culture antics of the 1990s, but with all the new-gen tech and quality of life features of today's generation, including a built-in map editor for single-player and multiplayer content called Snap Map, and that's probably why it's one of the best shooters this generation has to offer.
Your Daily Blend of Entertainment News
Staff Writer at CinemaBlend.