The Original Sonic The Hedgehog, And More, Are Playable On Amazon Fire TV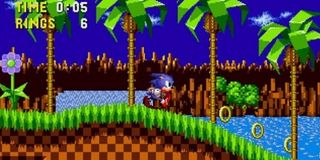 A new collection of classic Sega games is now available and you don't even have to buy a miniature console to play them. Instead, they've found an unlikely home on Amazon's Fire TV line of products.
Retro gaming is all the rage these days, and now Amazon is getting in on the action with a collection of 25 Sega Genesis games that includes everything from Sonic the Hedgehog to Comix Zone, Gunstar Heroes, and more. But while Nintendo and Sony have decided to make their own retro collections available in the form of rather pricey, tiny recreations of their old-school hardware, this latest collection from Sega is ready to roll on any Amazon Fire TV device. And believe it or not, it's a pretty sweet package.
First off, let's take a look at the games included for the $14.99 asking price.
No matter how you slice it, that's a solid collection of Sega games and, again, if you've got a Fire TV device, then you can grab the collection and start playing right now.
The folks over at The Verge have already taken the games for a spin, highlighting some of the features that makes this collection of Sega games so appealing. And while the NES Classic, SNES Classic, and PlayStation Classic consoles are more geared toward recreating the exact experience of playing some older games, the Sega collection offers more modern features that can make blasting your way through some of these classics a less frustrating experience.
The Sega collection on Fire TV can display the games in 4:3 or a "pixel perfect" mode, complete with a bunch of backgrounds to choose from in order to fill that extra screen space. There's a rewind feature, too, which will let you roll back gameplay a few seconds at the push of a single button. That's a godsend in some of these games, where a single misstep can completely end your run. Oh, and you've also got access to multiple save slots for each game, just in case there's more than one person trying to play each of them.
Perhaps the biggest surprise is the fact that the Fire TV remote, turned sideways, can be used to play the games. It's obviously not ideal to use the circle button as a D-pad and customizable face buttons for additional input but, according to the initial report, the controller gets the job done. Of course, if you really want to get the best out of this impressive deal, you could always sync just about any Bluetooth game pad to your Fire TV and have yourself a totally solid retro Sega gaming experience.
Staff Writer for CinemaBlend.
Your Daily Blend of Entertainment News
Thank you for signing up to CinemaBlend. You will receive a verification email shortly.
There was a problem. Please refresh the page and try again.