Here's How You Can Play SNES Games On Your Smartphone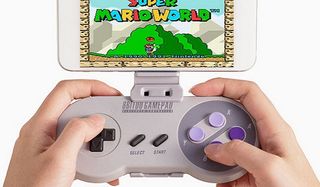 Playing your favorite old-school console games is easier than ever thanks to a handy little device called the 8bitdo Tech SNES30 Bluetooth game controller. It's a gamepad that looks strikingly similar to that of a beloved retro console, and it makes firing up a Mario game on your mobile device easier than ever.
News on this new doohickey comes to us from The Daily Dot, who also happen to be selling the controller in their online store. It's currently available for 22 percent off its regular price and can be yours for a cool $34.95. They even made a trailer for the thing, complete with a rockin' chiptune soundtrack.
My favorite thing about that trailer is that it ends by saying "Real buttons, just as God intended." I'm fine with mobile gaming, but there's only so much that can be done in the control department without more inputs than tapping and swiping. This device allows you to play games more comfortably and, if you're into emulation, it makes those classic NES and SNES games less of a nightmare to get through.
To be perfectly clear here, we're not encouraging anyone to pirate software. That's the exact opposite of what we want you to do. Emulation, though, is totally legal. If you want to play Street Fighter, a Kirby game, or maybe Zelda or Mario Bros on your phone, simply go to your nearest used game store, plop down $2 for a copy of the actual game and then download the rom to your heart's content.
This particular controller has a handy little snap-on mount so you can easily attack your device, and it can communicate with said device via USB or Bluetooth. It's also PC, Mac, Android and iOS compatible. Just a friendly reminder that you can play iOS games with the controller, but emulation software is not available on iTunes, so you won't be able to play Metroid or whatever.
According to the video, the set-up is pretty simple. Just sync the controller with your mobile device, assign the buttons and get to playing. Nintendo has recently started making retro games available on the New 3DS but, if you don't feel like buying a new console or would prefer to wait for their library to grow, this handy controller could fix your gaming on the go needs for the time being.
Again, we've seen these types of controllers before but, if this one is as solid as it looks, it might be worth a gander for those of you who like to game on your phone. Also, the SNES controller is still one of the more comfortable pads available, so you can finally play your emulated games in comfort and style.
Staff Writer for CinemaBlend.
Your Daily Blend of Entertainment News
Thank you for signing up to CinemaBlend. You will receive a verification email shortly.
There was a problem. Please refresh the page and try again.