Fortnite Is Being Sued Over Another Set Of Dance Moves, But There's A Catch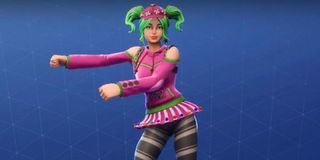 Fortnite is full of dances folks will likely recognize from pop culture and, as it turns out, some of the folks who created those dances aren't too happy about that fact and are seeking legal action. The most recent lawsuit has been filed by Alfonso Ribeiro, famously known as Carlton Banks from The Fresh Prince of Bel-Air. But just to throw another wrinkle into the situation, it's now being questioned whether Ribeiro himself was even the originator of what has become known as "The Carlton Dance."
According to a report from Polygon, Ribeiro is suing Fortnite's parent company, Epic, over inclusion of the "Fresh" emote. If you happened to pick up that emote, you likely noticed that it bears a striking resemblance to the goofy dance Carlton Banks used to perform on Fresh Prince. Like, super striking.
That's not exactly uncommon in Fortnite or many other games, where emotes resembling known dances have become a big part of the in-game community. The question is whether or not that's actually legal.
This isn't the first time Epic has been called out for including a famous dance, as rapper 2 Milly, also known as Terrance Ferguson, recently sued the company over his own dance, Milly Rock. In the case of Ribeiro's claim, it's noted that there's an additional concern about the process of taking these particular dances and then making money off of them by selling them as emotes. According to the claim, these actions by Epic are "exploiting African-American talent" when they appropriate these dances and movements.
While it's likely many other celebrities can claim Epic is appropriating their dance, the real murky issue is whether or not it is actually illegal. Unlike some other forms of entertainment, you can't simply break out a dance and claim it as your property. That's not an attempt to minimalize the situation, just a statement that ownership of dance moves has always been a tricky business. According to the initial report, you first need to copyright a dance before you can claim ownership of it, which is likely itself a rather complicated process. It's noted that Ribeiro is currently in the process of copyrighting his dance so, again, it's unclear if that fact will have an impact on his lawsuit.
Also unclear is whether or not Ribeiro's dance can even be called his own. In a recent clip revealed by TMZ, Ribeiro explains how he came up with the dance. In his own words, he "stole it" from Courteney Cox and Eddie Murphy. The former breaks out a similar dance in the Bruce Springsteen music video for "Dancing in the Dark," while the latter used a similar dance as his "white guy dance." Both are close to what has been called "The Carlton Dance," but neither is identical. Ribeiro explained that he took a little from each, put in a bit of his own stuff and, boom, he's got the dance. As his lawyers stated following the revelation of the clip, Ribeiro was not using the term "stolen" in the legal sense of the word. If all of this is a bit confusing, just be glad that you're not the judge who has to eventually make a determination on the matter.
If nothing else, at least this whole situation is bringing the use of these types of emotes into the limelight. They're in all sorts of games, usually because they're something the community will recognize and enjoy and, yes, pay a couple of bucks for. But that's where the dilemma lies. If someone is making money off of the dance, should the person who created it not receive compensation or, bare minimum, a say in whether or not their dance can be used? Whether or not 2 Milly and/or Ribeiro win their cases, it's possible they will at least lead to developers putting some additional consideration into what emotes are created for their game and whether or not they can (or should) be grabbed from pop culture so freely.
Staff Writer for CinemaBlend.
Your Daily Blend of Entertainment News
Thank you for signing up to CinemaBlend. You will receive a verification email shortly.
There was a problem. Please refresh the page and try again.