Fortnite Is Adding A Sword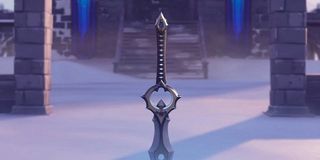 The Fortnite Season 7 rollout continues this week, and according to the latest tease on Twitter, it looks like swords are finally coming to the game.
As is usually the case with these Fortnite tweets, Epic kept things short and sweet, providing just enough detail to excite the hell out of the community. The new clip promises a "weapon fit for a king," followed by a sword and crown emoji. The accompanying trailer swoops in on a frozen mountaintop from the game's new location, boasting a castle and some surrounding buildings. At the heart of the courtyard is a sword in a literal stone, and we see a character pull said sword from said stone.
What's interesting is that Epic already kinda-sorta teased these items, as the reveal trailer for Season 7 boasted a dude with a sword on his back. Given the fact that Epic never really shows anything in these trailers just for laughs, many assumed then and there that swords would be included in the new update. They didn't appear last week when the new season launched, but it looks like they're definitely on the way.
The only questions is what role these weapons will play in the game. Will swords just be a new kind of skin to replace the game's standard pickaxe, or will they be actual weapons you can find spread across the map? Will they only be used for close-quarters combat or will they have additional abilities that maybe send a shockwave forward a few feet to injure enemies. Since Fortnite's unique brand of combat tends to work best at range, the first of those options seems the most likely.
Of course, there's always a third option, and that is that a singular sword will appear somewhere on the map and grant the player who grabs it some additional abilities, not unlike the event that featured Thanos from Infinity War. Actually, the more I think about it, the more that idea seems like the most fun. The image tied to the Season 7 promos looks to be displaying a mighty ice king of some sort, so it would be rad as hell if an in-game sword also turned players into Fortnite's version of Elsa.
Obviously, you can feel free to speculate all you want. Given how regularly Fortnite is updated, though, don't be surprised if the sword (or swords) make an appearance within the next day or so.
And, again, this is only the latest addition to the ever-changing world of Fortnite. At this point, Season 7 has introduced a frozen land mass, some new gear and skins, ziplines and even freaking planes for players to fly into battle. Oh, and there's also that entire new mode that lets people create their own maps. No wonder Epic has made enough money to take an actual shot at launching its own games storefront.
Your Daily Blend of Entertainment News
Staff Writer for CinemaBlend.