Gears Of War's Cliff Bleszinski Has Left Video Games For Broadway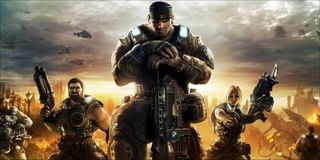 Cliff Bleszinski had previously said he was done the video game industry, but now we know where he'll be trying his hand next. The man behind Gears of Water recently revealed he's producing on Broadway.
Even Cliff Bleszinski noted how crazy it was after making a tweet about over on his official Twitter account. He proudly declared that he was co-producing a Broadway show called HadesTown. After pointing to the Broadway show on Spotify, he later clarifies how he got into the whole stage show business far and away from gaming, stating that it was his niece who was a Broadway nerd that first introduced him to it. Following that thread, Bleszinski decided to get into the production aspects of it. He also points out that while he states that he's co-producing the show, he's actually more of an investor, since he joined the production team as an investor not as a producer, but he's still technically co-producing the show.
He's definitely right that a lot of people in the gaming news are definitely going "WTF?".
It was just earlier in the year that Boss Key Productions was still working on video games, specifically a hipster Battle Royale game called Radical Heights, where instead of having fatigues and military vehicles at your disposal, you rode around on bikes, and donned skater clothes while taking down opponents in a colorful and vibrant battle arena.
Despite the popularity of Radical Heights with some, the game just didn't do well enough to justify keeping the doors open at Boss Key Productions, the outfit that Cliff Bleszinski opened up to work on games independently and away from the strict structures of AAA publishers.
The company's first project was LawBreakers, a multiplatform first-person shooter that was themed around anti-gravity combat. It didn't fare quite so well on the market, especially as it faced stiff competition from other combat arena shooters such as Unreal Tournament and Quake Champions, as well as Blizzard's own Overwatch.
The closure of Boss Key Productions came just a short year after the launch of LawBreakers, which launched in the middle of August for the PlayStation 4 and PC.
After Boss Key Productions closed up shop, Cliff Bleszinski sent out tweets stating that he would be leaving gaming for good. He declared himself done with the world of development, and it appears he's sticking to his word. The creator of Jazz Jackrabbit and Gears of War is now testing his mettle in the world of Broadway, and we'll see how this all pays off as his investment into HadesTown begins to ramp up. Previews for the show begin on March 22nd, 2019 next year. After that, we'll find out if Bleszinski has what it takes to break a leg on Broadway.
Staff Writer at CinemaBlend.
Your Daily Blend of Entertainment News
Thank you for signing up to CinemaBlend. You will receive a verification email shortly.
There was a problem. Please refresh the page and try again.