Jack Black Thanks Gamers For Helping His New YouTube Channel Reach A Milestone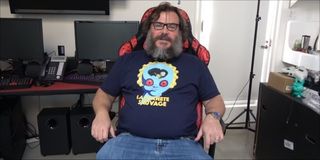 One of the stories you probably didn't expect to see circulating through the media sphere is that Jack Black has become a YouTube gamer. I know, it doesn't really make a whole lot of sense, but Jack Black's YouTube endeavors have been a heck of a lot more popular than anyone ever would have thought.
Jack Black uploaded the trending 49-second video clip to his YouTube channel, Jablinski Games, where he jokes about getting more than a billion subscribers, saying he's bigger than PewDiePie and Will Smith. However, he's informed that he only has a million subscribers, which nearly causes him to drop an 'F' bomb in response. However, he chuckles and tells his viewers that they're just getting started and thanks everyone for the support.
Technically, he has more than 1 million subscribers... he's edging in closer to 2 million subscribers as of the writing of this article. More precisely, his subscribers are sitting at 1.9 million subscribers, even though his channel only has two videos -- the introductory video he posted up on December 21st, which managed to garner nearly 6 million views even though it's less than 30 seconds long; and the second video that he posted up on Friday thanking fans for subscribing to his channel, which is also under a minute long.
I do hope that his other videos that he posts up each Friday will be a little bit longer than just half a minute long, but it appears as if he's already garnered a strong following just for being Jack Black.
As mentioned in the previous article, Jack Black is no stranger to the world of interactive entertainment. He's had a stable gig of contributions to the video game industry, mostly doing voice work for games made by Tim Schafer and the crew at Double Fine Productions. He was also heavily involved with the production of Brutal Legend, which was a rock-and-roll action-game musical, which will probably go down in history as the first and last of its kind... unless studios decide to get really creative again.
There's still exactly no outline on what we can expect from Jack Black's YouTube content. Will he be livestreaming games on his channel? Will he be playing popular games or esoteric games? Will he be playing console games or sticking with PC titles?
Right now we have no way of knowing what the star of School of Rock and co-star of Tropic Thunder will do. However, we do know that he has already amassed nearly 2 million subscribers without doing much of anything other than being Jack Black. So he's already off to a great start, now he just needs to maintain the momentum by uploading content.
Your Daily Blend of Entertainment News
Staff Writer at CinemaBlend.