Tim Schafer Has Been Reunited With A Piece Of LucasArts History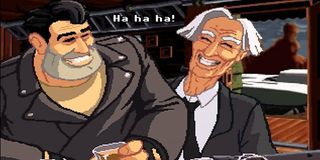 Christmas came early for game designer and Double Fine Productions head Tim Schafer, who was recently reunited with a piece of memorabilia he thought was lost to the ages. Taking to social media this week, the man behind Full Throttle showed off a rather impressive piece of promotional art from the game that has now been fully restored and is hanging in his office.
According to Schafer, he always loved this large image of Ben, the protagonist of Full Throttle. As he explains in further tweets, this particular neoprene of Ben was created somewhere around 1995, likely for a tradeshow such as E3. The image was commissioned at the time by marketing manager Barbara Gleason, though Schafer is unclear on who did the actual work. It is known, however, that this bad boy is hand painted.
Back in the '90s, Schafer worked for LucasArts and, along with Full Throttle, was a driving force behind games like Monkey Island and Grim Fandango. When he left the company in 1999, he said he was not able to take this particular piece of artwork along for the ride.
Apparently, Graham McDermott eventually found the thing in an actual dumpster and decided to bring it with him when he started working at Telltale, where Schafer explains it almost ended up in a second dumpster, presumably because people are insane monsters.
Whether or not the recent closure of Telltale has anything to do with this story is unclear but, considering the timing, it seems likely. It would make sense that, while cleaning out the offices, somebody came across the artwork and planned on chucking it until someone else stepped in and said, "Hey, maybe Tim would like that."
Once Ben was reunited with his father, he was restored to his former glory and is now hanging on the wall at Double Fine HQ, and, as you can see from the tweeted image, Schafer is ecstatic. He later notes that one-time use marketing materials from yesteryear might be today's treasure, especially for someone with great reason to be especially sentimental about it.
After leaving LucasArts and helping spearhead Double Fine, Schafer went on to create games like Psychonauts (which has a sequel in the works!), Brutal Legend and Costume Quest, all of which have a similar sense of humor and share a unique aesthetic akin to Schafer's earlier work.
It's kind of cool to think that he made a game more than 20 years ago that spawned a piece of memorabilia that, all these years later and almost by happenstance, he has been reunited with. That should come as some comfort to all of those hoarders out there who keep hanging on to Kingdom Hearts standees they snagged from GameStop. They're not "collecting junk," they are "preserving history."
Your Daily Blend of Entertainment News
Staff Writer for CinemaBlend.