Blizzard Confirms Overwatch Player Ellie Was A 'Fabricated Identity'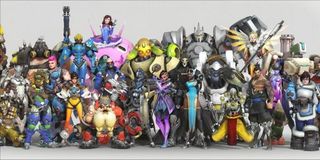 (Image credit: Blizzard Entertainment)
Over the weekend, Blizzard Entertainment provided statements concerning a player who allegedly quit an eSports team over claims of harassment and doxing. It turns out that none of that was true, and that the person who quit was actually a fabrication, which was part of a "social experiment" that turned out to be a hoax.
Blizzard provided a statement to Unikrn, which explains...
The entire story can be somewhat convoluted, but it all began back in late December of 2018 when the Overwatch Contenders' team, Second Wind, recruited a mysterious new rookie named "Ellie." This person had no other first or last name, and no personal identifying information about them. The only thing that people knew was that this bronze-player had shot to the top 10 of the leaderboards and was nearly instantly recruited by a recognized eSports team in the little leagues of Overwatch.
Some people began questioning if Ellie was actually real or if it was just a smurf account for a high-level player.
To prove that Ellie was a real person, there was a livestream that took place on Twitch where Ellie spoke and presumably appeared to be an actual female gamer.
However, people were still skeptical and kept prying for more information. Eventually Ellie quit Second Wind, and the team blamed the pressures from the community and harassment as the reason why.
The media ran with the angle that the community harassed a female player out of the Overwatch eSports league. But Twitch streamer for the Cloud9 brand, Becca "Aspen" Rukavina, revealed through a livestream on January 4th, 2019 that Ellie wasn't actually Ellie, and it was just a "social experiment" from a top-500 player in Overwatch named Punisher.
This was corroborated and verified later by eSports analyst and consultant Rod "Slasher" Breslau, who provided screenshots on Twitter of Punisher using chat messages to try and recruit other women for his social experiment. The screenshots reveal that the "Ellie" account belonged to Punisher. Essentially he had a 17-year-old female gamer voice Ellie during a livestream while he worked the social media accounts and actually played the game through the Ellie account.
After the ruse was up, Blizzard launched a formal investigation into Ellie to reveal that it was all a hoax. Second Wind published a public apology via TwitLonger on January 5th, 2019 to explain how in a rush to replace the empty slots on their team, and due to the pressure to recruit a female player, they recruited Ellie without verifying any of her information.
The post rounds out with Second Wind apologizing for bringing in someone that used the eSports platform, and the online community of Blizzard's first-person shooter for their own ends, writing...
It's not clear if Blizzard will be punishing Punisher for his antics, or how this will affect teams announcing new recruits before proper vetting has been done. But the company obviously can't be happy with the fact that so much drama was fueled by a hoax that was given more presence and circulation than it should have had the facts been checked before any of the information was made public.
Staff Writer at CinemaBlend.
Your Daily Blend of Entertainment News
Thank you for signing up to CinemaBlend. You will receive a verification email shortly.
There was a problem. Please refresh the page and try again.