Spider-Man, God Of War Among Nominees For Game Writing Award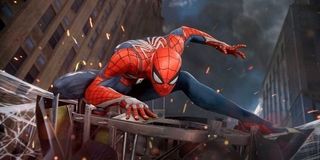 The list of nominees for the 2019 Writers Guild Awards for screenplay and video game writing have been announced, with the latter category including the likes of God of War and Marvel's Spider-Man.
The Writers Guild of America West announced its annual award nominees this week, including categories for Original Screenplay, Adapted Screenplay, Documentary Screenplay and Videogame Writing. That final category is of particular interest to us and includes five entries.
Spider-Man
God of War
Batman: The Enemy _Within: Episode 5_
Assassin's Creed Odyssey
Pillars of Eternity II: Deadfire
First up is God of War, with Matt Sophos, Richard Zangrande Gaubert and Cory Barlog accompanied by a handful of other folks tied to the Santa Monica Studio game. Marvel's Spider-Man has Jon Paquette listed as story lead, accompanied by additional writers and contributors such as Benjamin Afrmann, Kelsey Beachum, Christos Gage, and Dan Slott.
Also earning a nod was Pillars of Eternity II's Deadfire expansion, as well as the fifth episode of Batman: The Enemy Within. There's also a nomination for Assassin's Creed Odyssey, with nearly 30 people listed for the potential honor. Assuming WGAW hands out trophies for these honors, can you imagine the plaque that would be needed to add all of those names if Assassin's Creed wins?
It'll be interesting to see which game and which type of writing catches the attention of the folks responsible for handing out these honors. Spider-Man and God of War have both received plenty of praise for their narrative, with Batman's fifth chapter proving an interesting exploration of character for fans of the Caped Crusader. Based on the nomination, it looks like Assassin's Creed could be the easy winner if volume is a factor.
If nothing else, it's cool to see games writing receive this type of recognition, earning nominations alongside the likes of Blackkklansman, A Star is Born, Roma and A Quiet Place. The medium requires a unique set of writing skills and, when done well, it can really raise the bar for games in general.
Concerning the category, the WGA's require that a nominee be a game published in the previous year or, in this case, between Dec. 1, 2017 and Dec. 31 2018. The game must also feature on-screen writing credits from nominees who are a part of the organization. Voting is done by Videogame Writers Caucus members within the organization or Writers Guild members who are actively involved in games writing.
Scanning through this past year's game launches, the only notable omission jumping to mind is Red Dead Redemption II, which has received high praise from fans and critics alike for its writing. Similar to Assassin's Creed, there were probably also a million writing folks on staff. It's not clear if Rockstar's latest did not meet the WGA's criteria or if the game simply was not nominated.
Either way, the list provided is definitely a strong one, and we'll be interested to learn which game ultimately takes home the prize.
Your Daily Blend of Entertainment News
Staff Writer for CinemaBlend.