Kingdom Hearts 3 Reviews Are In, Here's What The Critics Think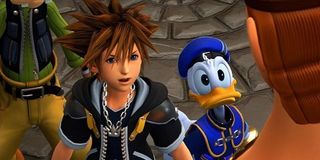 At long last, Kingdom Hearts III is finally upon us and, based on some early reviews, it looks like the long, long, long, long wait has been well worth it.
It's official, Kingdom Hearts III is happening. I didn't want to accept this as a fact until actual copies of the game were played by human persons and, based on the steady stream of reviews that have been hitting the internet throughout the day; it appears that that is finally the case. And, if you think that level of skepticism is silly, then you clearly didn't watch the first teaser for this game after beating Kingdom Hearts II a full 13 dadburn years ago.
But, after much teasing, project resets and two console generations have come to pass, we have finally reached the launch of Kingdom Hearts III. Thankfully, it appears Square Enix has put forth a very solid effort, as early reviews for the PlayStation 4 and Xbox One game have been unanimously positive. The game is resting at an 89 on Metacritic at the moment, based on 17 reviews. That number will likely shift a bit as more folks plow through its lengthy campaign but, for now, it looks like KH3 will likely make insanely-patient series fans happy.
Up toward the tippy-top of the spectrum is a take from Gameinformer, which calls the game a "dream come true" for fans of the series, with a plot that manages to tie in everything from the main games to the multiple spinoffs such as Birth by Sleep and 358/2 Days. According to this glowing 9.5 review, this is absolutely the game diehards have been waiting for.
A little further down the review track is USG, delivering a 4.5 to the latest action RPG epic to come out of the unlikely partnership between Disney and Square Enix. This review notes that there are some occasional frame rate issues when the action gets intense, but, apparently, nothing to be too concerned about. This review points out that KH3 stays true to its PS2 roots in a lot of ways, all while managing to bolt on plenty of more modern niceties.
IGN had a similar take with its 8.7 review, saying that fans of the series should be satisfied with the conclusion, if not even remotely surprised. This review notes that the new Disney-themed worlds are a bit of a mixed bag, too, saying that the Frozen and Tangled maps feel a bit lackluster, while the new map for Pirates of the Caribbean apparently works swimmingly as a miniature Assassin's Creed.
One of the lowest reviews as of this writing comes from Gamespot but, since it's an 8, it's not like that's a huge knock against the game or anything. While this review throws praise at the bite-sized stories within the Disney and Pixar worlds Sora and his pals visit throughout Kingdom Hearts 3, it also points out that the overarching story is just as convoluted as ever.
So, what do you think, folks? Does it sound like the wait has been worth it? Are you excited to finally play Kingdom Hearts III? Let us know in the comments below.
Your Daily Blend of Entertainment News
Staff Writer for CinemaBlend.