PlayStation Now Has Begun To Add PS2 Games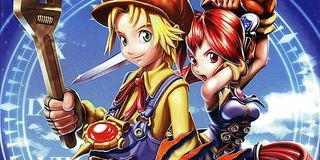 Sony's game streaming service, PlayStation Now, already includes a wide selection of games from the PlayStation 4 and PlayStation 3. Starting this month, though, mega-hits from the PlayStation 2 era will also be joining the lineup.
Over the years, the PlayStation Now library has grown to include more than 650 games. These include last-gen hits like Red Dead Redemption and Fallout: New Vegas, alongside PS4-era games like Homefront: The Revolution and God of War Collection. For folks who want to play even more old-school classics, though, Sony has announced through the PlayStation Blog that a bunch of PS2 games will soon be added to the collection.
To kick things off, three PlayStation 2 offerings will join the streaming roster of games, including Ape Escape 2 and, one of my all-time favorites, Dark Cloud 2. The former is a fast and frantic action game that sees the player exploring colorful worlds and solving puzzles while trying to catch some pesky primates, while the latter is a deep RPG dungeon crawler that incorporates a rad world building mechanic. They're both great games and now they can be played at no additional cost on top of the PlayStation Now subscription fee. Also on offer from the PS2 era is Hots Shots Tennis, a lighthearted yet surprisingly deep take on, well, tennis.
This trio of games has been enhanced visually for the PS4 so they look nice and crisp in HD, and they've also received Trophy support, making a revisit all the more worthwhile for those of you looking to boost your player level.
The announcement lists several other games being added to the service this month, including Limbo, Metal Slug 3, Mystery Chronicle: One Way Heroics, Sine Mora EX, Siren and The Last Blade 2. Also, Blazblue Chrono Phantasma Extend is being upgraded to the PS4 version of the game.
If you haven't given PlayStation Now a try yet, you can check out the service with a seven-day trial on the PlayStation 4 and PC. New games are added each month and the monthly subscription is 10 bucks. You can also bundle in three-month or annual subscriptions and save some cash. Unlike Xbox Game Pass, you won't be downloading these games. Instead, you simply stream them to your PS4 or PC and have unlimited access to the full library.
If you're looking to try out some older games, it's definitely worth at least a gander for the free week trial. Anyone who already subscribes is welcome to leave their thoughts on the service in the comments below. Also, if you have any hidden gems you'd like to share with the rest of the class, feel free to add them to the conversation.
Your Daily Blend of Entertainment News
Staff Writer for CinemaBlend.
Your Daily Blend of Entertainment News
Thank you for signing up to CinemaBlend. You will receive a verification email shortly.
There was a problem. Please refresh the page and try again.