3 Extravagant Pieces Of Metal Gear Solid Merchandise You Can Actually Buy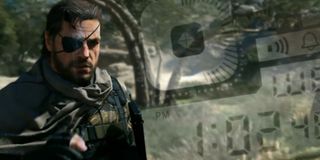 Metal Gear Solid V: The Phantom Pain is finally hitting store shelves next week, and it's going to be one massive adventure.
The review scores are pouring in, our review will be hitting as soon as we can put one together, and everyone's got Metal Gear fever. What better way to celebrate the release of what seems like Hideo Kojima's opus than to go on a Metal Gear shopping spree? But not just any shopping spree will do. No, this is a shopping trip like no others, with extravagant, one-of-a-kind products that you'll probably never see on the layperson while out and about.
Here are three pieces of extravagant Metal Gear Solid V: The Phantom Pain merchandise you can actually buy.
JF Rey x MGSV Eyewear
Hideo Kojima is rarely without his signature glasses, and now you can rock specs as stylish as his. Kojima collaborated with designed Jean François Rey for a line of classy eyewear that'll set you back a pretty penny, just like the ones seen in the game. You can choose from Ocelot, Kaz, the DD Gear, Razor Gear Solid, or the Hideo Gear, which is the Cadillac of the collection. Only 200 copies were created, sporting white frames with white metal and a special case and Hideo Kojima's aesthetic blessing. You can buy them all, but they're going to cost you around $900 for the Hideo Gear glasses and about $200 for the other versions. Sure, you'll have the luxury of looking like you just stepped out of a Metal Gear game, but you might want to be careful and make sure your bank account can handle all of that awesome first.
Musterbrand Snake Leather Jacket
This limited edition leather jacket may look unassuming, but it's an exact replica of the very same coat worn by Big Boss in Metal Gear Solid V: The Phantom Pain. It's also a whopping $549.00. If you want to look like Big Boss, it's clear that you've got to be willing to pay the price, and for this coat, it's quite the exorbitant one. But judging from the comments from the buyers who have already plunked down the cash, it's every bit worth the asking price, especially if you're a diehard fan who wants to look just like Big Boss, and who doesn't want that? All you need know is a special arm and you're good to go, which you could totally casually cosplay with one black glove and one red glove. Imagine wearing this baby out during a night where there's a cool fall breeze. I need to stop. I'm making myself really want it.
Metal Gear Solid V: The Phantom Pain Sony Walkman
When's the last time you purchased a Sony Walkman? Are you a Metal Gear fanatic? That might just change in the future. For a whopping 140,000 yen, or about $1,140 USD, you could purchase a special edition Sony Walkman with an Outer Heaven logo and 128 GB of internal storage, with several familiar tracks already included: the Snake Eater Theme, "Sins of the Father," "Heaven's Divide," "Quiet's Theme," and four other tunes that have yet to be announced. There are even special wallpapers and the "!" alert sound included for fun. You can alternatively pick up the cheaper 32 GB version for 28,000 yen or $230 USD, but if you're talking Metal Gear, it's go big or go home, right? Besides, the luxurious item could almost mask the fact that you just paid that much for what essentially amounts to an MP3 player. Or a few iPod Touches. Crazy!
Your Daily Blend of Entertainment News
Thank you for signing up to CinemaBlend. You will receive a verification email shortly.
There was a problem. Please refresh the page and try again.