The Metal Gear Solid Movie Just Took A Big Step Forward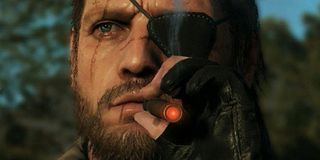 The long touted adaptation of Metal Gear Solid is a step closer to fruition, as Sony Pictures has signed up Jay Basu to write the screenplay for the film. This will be great news for gamers, because since Metal Gear Solid debuted back in 1998, the game and its subsequent sequels have been met with consistent critical acclaim and have sold over 30 million copies.
Deadline has the scoop on this story, adding that Kings Of Summer helmer Jordan Vogt-Roberts is still on board to direct, and that Ari Arad as well as production president Michael De Luca are steering the ship as producers as well.
Metal Gear Solid originally premiered on the PlayStation console over a decade and a half ago, after being devised and created by Hideo Kojima. The game's protagonist is Solid Snake, a well-trained and deadly soldier who looks to negate the threat of a renegade special forces unit by the name of Foxhound. The group tries to use a nuclear weapons facility as a terrorist threat, and Solid Snake must liberate two hostages, confront the terrorists and then stop then nuclear attack.
Metal Gear Solid as a film was originally teased all the way back in 2006, when Hideo Kojima confirmed that it was in development. At the time, Kojima hinted that the potential movie would once again be set in Alaska, just like the original game. However it was immediately met by a bit of controversy as David Hayter, the actor who has provided the voice of the character throughout the video-game series, wasn't involved in the project. Hayter's most renowned work as an actor has been as Snake, but he's also had a long and prosperous screenwriting career, having worked on the scripts for X-Men, The Scorpion King, X2: X-Men United and Watchmen.
The confirmation that the sought-after Jay Basu is now in control of Metal Gear Solid's script for Vogt-Roberts to direct suggests that David Hayter still won't be involved in the pre-production phase of the film. And the appeal and possibility of Snake and for Metal Gear Solid to evolve into a bona-fide franchise means that he'll probably be overlooked for playing the lead character too. Back in 2012, Christian Bale admitted that he was a fan of the game which led to rumors he'd be up for taking the part, and you can expect a whole host of impressive Hollywood leading men to now confirm their interest too.
The addition of Jay Basu and Jordan Vogt-Roberts is proof that Sony Pictures is taking this project very seriously. Basu is currently one very in-demand screenwriter. Not only was the action adventure The Pier, which he co-wrote with David Bowers, voted as the runner-up in the Brit List, a collection of the best unproduced scripts from the UK, but he has also been signed up to work on the massive classic monster movie franchise at Universal as well.
Jordan Vogt-Roberts' The Kings Of Summer was met with widespread acclaim after it premiered at the 2013 Sundance Film Festival, and he is currently in the midst of working on Kong: Skull Island, the upcoming prequel to King Kong that will star Tom Hiddleston and J.K. Simmons. And while he's an interesting choice, he's not quite as exciting as who was originally touted back in 2008.
Your Daily Blend of Entertainment News
Thank you for signing up to CinemaBlend. You will receive a verification email shortly.
There was a problem. Please refresh the page and try again.