3DMark Now Supports 4K Benchmarks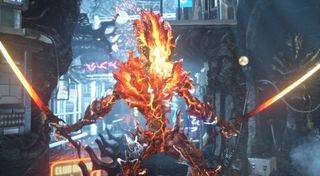 Futuremark Studios is continuing to raise the bar when it comes to benchmarking. Just because consoles may be set at a specific hardware level doesn't mean that the rest of the technology world stays put. In fact, while 1080p and 60fps has become the golden standard (but not always where it counts) Futuremark is living up to their name by pushing the envelop into the upper echelon of benchmarking for graphics enthusiasts.
The company announced today that that they offer up 4K benchmarking for those of you who have a quad-Titan setup and want to push your electric bill to the absolute extremes. That's right, the newest version of 3DMark can now render tests at at a resolution of 3840 × 2160, which means that the hardware is pumping enough juice through the veins of the computer to output 8.2 million pixels per frame.
As mentioned in the press release...
I'm here to tell you from first-hand experience that the Fire Strike Ultra demo will absolutely kill your GPU in the benchmarks. In fact, I put the Asus ROG GL551JM through the grinder in that Fire Strike benchmark and it just got killed. Even with an Nvidia 860M the Fire Strike benchmark (also known as Fire Storm) brought the whole system down to a crawl at only 20fps. Brutal.
Now imagine what the Fire Strike Ultra HD benchmark will do to GPUs? Futuremark gives ganers a bit of a taste of what they can expect from the 4K benchmark with a chart on how many polygons are processed in the benchmark. Check it out below.
If you think you have a rig that can compete with the best of the best, feel free to join the competition of benchmark enthusiast by grabbing the latest version of 3DMark v1.4.775 from either the official website or Steam's client.
Additionally, there's a benchmark leaderboard to showcase whose PC is the best of the best from the world around. You can see where your PC ranks against some of the most die-hard enthusiast who literally live up to being a dedicated member of the Glorious PC Gaming Master Race. In fact, at the top of the leaderboard is a user named Jordan Zielin, going by the handle of Zurv. He's from the good 'ole U.S., of A. Check out the specs of his PC:
Yes, you read it right: Zurv has four GTX 980s in SLI. His rig is probably more expensive than the average car.
You can check out the full leaderboard list right here.
Your Daily Blend of Entertainment News
Staff Writer at CinemaBlend.