3DS System Update Plays Nice With Wii U, Adds Miiverse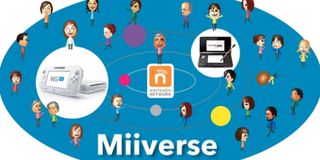 The latest system software update is up and running for the Nintendo 3DS, finally uniting the portable console with its big brother, the Wii U, as well as offering a slimmed-down Miiverse application for gamers on the go.
If you haven't booted up your 3DS in the past 24 hours, chances are you're missing out on the latest and greatest features Nintendo's portable console has to offer. Okay, so, they aren't all that great, actually, but at least they bring the pocket-sized gaming machine and the latest Nintendo home console onto more even ground.
Given the inclusion of the Miiverse functionality, this update actually takes quite a bit longer than the usual Nintendo system tweak but, even then, we're only talking five or so minutes to get it downloaded and installed.
For those who don't have a Wii U already, you're going to need to make yourself a Nintendo Network ID in order to take full advantage of the update. Otherwise, you can just use your existing ID and jump right into the action.
The first major prong of this update is the unification of the Nintendo eShop balances and wish lists between the two consoles. It seems pretty obvious that accounts would have been unified across Nintendo consoles from the get-go, but that simply was not the case. In the past, the $20 you had sitting on your Wii U account was useless on the 3DS and vice-versa. Now both accounts, as well as your personal wish list for games you want to someday purchase, has been combined between the two consoles. Add money on the 3DS and have access to it when buying Wii U games. It's that simple.
"In addition, Miiverse support has been added, allowing Nintendo 3DS users to connect with players around the world to share experiences and game tips," reads the launch announcement from Nintendo. "While the full Miiverse experience on Nintendo 3DS requires a broadband internet connection, there is also an offline mode for players without access to Wi-Fi."
Think of Miiverse as a sort of message board where players can chat, share screenshots and accomplishments in rooms designated for various games. In the offline mode, users can queue up to three posts to be uploaded the next time you're connected to Wi-Fi. Friend Code exchange and personal messaging aren't included in the 3DS version of the application, making me more than just a little bit annoyed. Nintendo is once again forcing restrictions on the community as a whole rather than letting parents do their job, making it damn-near impossible for gamers to easily connect with friends. It's a practice I will never understand, but at least there's always the chance that functionality will be added in within a future update.
Finally, with this update, gamers can now transfer their content between as many different 3DS systems as they like (once every seven days, anyway), making it easier than ever for those of you who have multiple consoles in the household to spread the love.
Staff Writer for CinemaBlend.