5 Of The Most Memorable Retro Video Game Commercials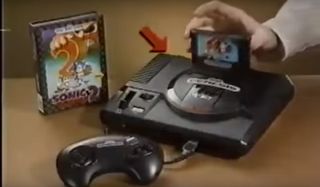 Do you remember the commercials for Crash Bandicoot? A guy ran around in a Crash suit doing stupid things, and yet somehow I completely understood what was going on and what the message behind the commercial was: play Crash Bandicoot, of course! These are five of some of the most entertaining video game commercials from the earlier days.
1. Crash Bandicoot
If there's one thing Crash Bandicoot is really good at, it's being a snarky...jerk. In this commercial, Crash dances around in front of Nintendo headquarters, showing off TV's displaying Crash Bandicoot gameplay. This hysterically illustrates the obvious rivalry between the two major video game companies, PlayStation and Nintendo. It's funny when Crash makes the comment, "Your days are numbered!" to Nintendo when, in fact, Crash Bandicoots days were even more numbered. Now, Crash Bandicoot seems to have fallen into oblivion and Nintendo is releasing its own handheld console this year. Funny how things happen.
Twisted Metal was a hit PlayStation game in the 90's and involved some serious automobile construction. This is also where infamous PlayStation icon, Sweet Tooth, made his debut. The game was known for being outrageously outlandish with a collection of psychotic characters, so it only makes sense that the commercial works to highlight some of the more memorable of the bunch. It's too bad Twisted Metal hasn't made a comeback since its last title of the same name in 2012. PS4 could use a revamped Twisted Metal game.
3. Nintendo 64
Many of you Nintendo fans might remember this commercial showing classic characters from the early Super Smash Bros. on Nintendo 64 skipping merrily through a meadow—until they start beating each other up. Thus is the great and joyous objective for Super Smash Bros. What made this particular commercial so memorable was its ridiculous depiction of people in Nintendo character suits like Donkey Kong and Super Mario beating the crap out of each other in a bright meadow.
4. Xbox 360
The YouTube description for the video states that the commercial was released in 2005 to advertise the Xbox 360 console, which was known for its first-person shooters. But people complained the commercial promoted violence, so it was removed. Nowadays, there are far more violent commercials than people pointing finger-guns at each other, so obviously things have changed a little since then, including the stigma that video games cause violence.
5. Sonic The Hedgehog 2
Sonic The Hedgehog 2 was one of the best Sonic games ever released, long before he and his lovable sidekick, Tails, were contorted into empty shells of who they once were. This commercial hilariously mocks the boring and repetitive format of a typical ad on TV, noting that Sonic The Hedgehog 2 can even cut vegetables and hide horrid balding spots. While it's an entertaining commercial that doesn't do the game enough justice, it was memorable simply for its stark weirdness.
Your Daily Blend of Entertainment News