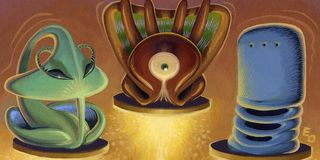 The gaming industry loves sequels. Publishers capitalize on a game's success by funding one, or sometimes multiple, follow-ups. In many cases, these sequels are very similar to the original game.
However, every so often, a sequel barely resembles the game that came before it. The developer decided to take the series in a completely different direction. Sometimes the result is fantastic. Here are a few examples of sequels that strayed far from their predecessors.
Wolfenstein 3D
Wolfenstein 3D is widely credited for putting the first-person shooter genre on the map. What many people don't know, though, was that the game was actually a sequel. Castle Wolfenstein and Beyond Castle Wolfenstein were top-down adventures that emphasized violence far less. Instead, players were encouraged to impersonate guards or sneak past them. Just as Wolfenstein 3D was a milestone for shooters, the Castle Wolfenstein titles were some of the first games to encourage players to be stealthy. Those stealth roots were forgotten until 2001's Return to Castle Wolfenstein, which let players blast their way through levels or sneak through them.
Star Control 2
Star Control centered around one-on-one spaceship battles in real-time. Rather than ape that structure for the next game, Toys for Bob decided to make something much more ambitious. Star Control 2 had real-time battles as well but everything else was different. Players were now allowed to freely wander the galaxy in a quest to save mankind from destruction. They gathered resources from planets, communicated with other races through branching dialogue, and recruited some of these aliens to their alliance. The result was an instant classic still loved by many PC gamers.
Saints Row 4
The Saints Row series' metamorphosis over the past decade has been fascinating. The first game in the series was a straight-laced gang drama that reminded people way too much of Grand Theft Auto. Over the years, though, Volition has essentially turned Saints Row into a self-referential cartoon. The most recent game, Saints Row 4, pushed the envelope the farthest. The player was the President of the United States and fought aliens in a virtual city. One of his weapons was the Dubstep Gun, which caused its targets to dance uncontrollably. I'm sure that Volition wants to make Saints Row 5 even wackier but they've got their work cut out for them.
Super Mario Bros. was such a milestone for the gaming industry that many forget about the older game in the series. Mario Bros., first released in 1983 in arcades, wasn't a journey through Mushroom Kingdom like its sequel. Instead, it was a single-screen game set in a New York sewer. The players controlled Mario and Luigi as they killed creatures like lobsters and sentient ice. There were giant turtles as well but Super Mario Bros. was the game that introduced most of the series' iconic characters like Goombas, Bowser, and Princess Toadstool. SMB also introduced many classic power-ups, such as the Fire Flower, Star and Red Mushroom. Although Super Mario Bros. was a sequel, it was the game that created the foundation for decades' worth of sequels and spin-offs.
X-COM Enforcer
The other games on this list were sequels that were different but better than their preceding games. X-COM Enforcer, however, was not. Rather than continue their long-running strategy series, Hasbro decided to simply make a third-person shooter with the same brand name. In Enforcer, the player was a robot shooting up aliens. There wasn't even an attempt to shoe-horn in some strategy elements, as flight simulator X-COM: Interceptor did a few years earlier. Enforcer was only a shooter and it was a bad shooter at that. XCOM fans had to wait 11 years for the series to finally return to its turn-based, tactical roots.
Your Daily Blend of Entertainment News
Staff Writer at CinemaBlend.