Alienware Announces Aurora 51, Area 51, Aurora ALX PCs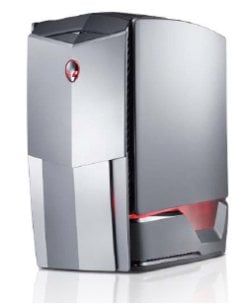 Hardcore gamers and computer enthusiasts will have a new series of options in the Alienware line-up. It was announced today that Alienware will be adding the Aurora, Aurora 51, Area 51, and Aurora ALX computers to their line-up. Need more details? Keep reading.
At this year's Tokyo Game Show Dell's Alienware division announced a new breed of performance computers. Now I'm not going to detail every spec of each machine but I'll briefly run through the important parts.
The Area?51 ALX offers Intel Core i7 CPUs that can be overclocked at 3.86ghz, 12GBs of system memory and multiple GPUs with a choice of NVIDIA SLI or the ATI CrossFireX. You can think of the Area-51 ALX as a champion racing horse rolled up inside silicon and plastic.
The Aurora ALX is hailed as the most powerful MicroATX computer provided by Alienware. Featuring Intel Core i7 CPUs with overclocking capabilities of 3.6ghz and 1600MHz DDR3 triple-channel memory, it's like a Mack truck and a bulldozer had a baby and put it on steroids. What's more is that the Aurora ALX offers gamers and design enthusiast lots of opportunities for customization and upgrade options.
The Area 51 is Alienware's newest, most upgradeable desktop PC. It's all about performance variety in this beast. Need dual 1.8GB NVIDIA GeForce GTX 2951 GPUs? Not a problem. How about 10,000 RPM RAID hard-drives for massive storage options? Got you covered with this machine. To top it off the Area 51 also has a very sleek design that's definitely worth checking out.
The original Aurora MicroATX desktop is the last but not least of the Breed 2 in the Alienware Tokyo Game Show line-up. Like its ALX counterpart it's all about high-performance but with more options suited for the gaming consumer. You can think of the Aurora as a mix between the MicroATX ALX and the Area 51: high performance with tons of upgradeable options.
Fancy having a more detailed look at this state-of-the-art performance PCs? Well, take a gander at some screenshots below. If you need more detailed specifications on each new unit, feel free to visit the Official Alienware Website. (opens in new tab) For more gaming news, updates, info and media, be sure to stay tuned in with Blend Games.
Staff Writer at CinemaBlend.
Your Daily Blend of Entertainment News
Thank you for signing up to CinemaBlend. You will receive a verification email shortly.
There was a problem. Please refresh the page and try again.