Animal Planet Nuko, Monsterology Nuko Multiplayer Arrives This Summer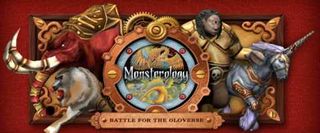 While Nukotoys' upcoming trading card apps won't be released until next month, information is still trickling out for the upcoming iOS infotainment games, including the option to battle family, friends and rivals in a Pokemon-style multiplayer mode.
Speaking with the CTO of Nukotoys, Dr. Mike North, he explained that the apps won't be standalone single-player experiences but that the apps will have branching multiplayer, just not at launch.
When the apps do become available there will be 60 Animal Planet Nuko trading cards and 100 Monsterology Nuko cards for mobile users to collect and trade. Using the cards is quite simple and involves swiping the card across the mobile device and having the designated monster or animal appear in the app, thanks to the printed patterns located inside the cards. For the Monsterology Nuko -- which enables users to collect and battle various monsters based on the book series of the same name -- there will be a competitive multiplayer component for the game that will be available this summer. Pokemon and Monster Rancher fans will be able to expand their turn-based combat skills with yet another monster-related collecting game.
Both apps will continue to receive additional trading cards, updates and levels post-launch. So as long as gamers are entertained by the apps there will be a growing list of new experiences for kids of all ages and adults to experience further down the line with frequent content patches.
Animal Planet Nuko and Monsterology Nuko will be available this March at major retailers and e-tailers. You can learn more about both products by paying a visit to the Official Nukotoys Website.
Your Daily Blend of Entertainment News
Staff Writer at CinemaBlend.
Your Daily Blend of Entertainment News
Thank you for signing up to CinemaBlend. You will receive a verification email shortly.
There was a problem. Please refresh the page and try again.